IN THIS ARTICLE:
Learn about iClassPro's Email Blast feature, used to send mass email communications to customers.
What is an Email Blast?
The Email Blast feature allows you to compose and send an email using images and variables to communicate with one family, or several families at once! After clicking send, the task will be sent to the Background Task to complete.
When the emails are finished sending, a report will be available in your background tasks with a copy of the email you sent and a detailed list of emails it was sent to. It will also tell you which email addresses may have opted out of your email blasts and which emails were not valid.
Want to send more than a quick message? For professional templates, open and click analytics and more, check out our MailChimp integration!
- If you wish to email enrollments with a start date in the future, see our "How Do I Email Future Class Enrollments?" document

- If you are sending Email Blasts from the CLASSES page, see our "How Do I Send Email Blasts from the CLASSES Page?" document.
Sending Email Blasts
From the FAMILIES, STUDENTS, CAMPS, or STAFF pages, open the Email Blast window by first selecting one or more families to email from the list, then clicking the email button as shown below.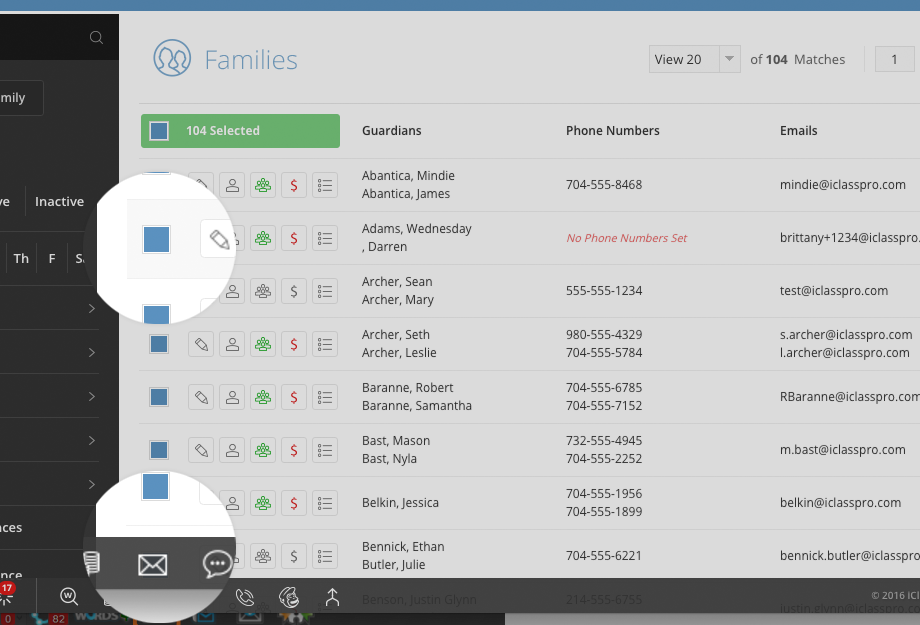 Notes:
- The email blast window is also accessible when editing a single family record from any page, using the Email Family button. This button will utilize a similar email blast workflow to allow you to send or schedule an email for the family without having to leave the family record you are working with.
- Enrollment type filters (ACTIVE, WAIT, MAKEUP, TRIAL) are available when sending email blasts from the STUDENTS page. The system will use the "On Date" specified in the filters to determine who is eligible.
- Attendance status filters are also available on the STUDENTS page. These will reflect students who were PRESENT or ABSENT on a particular date (along with Tardy/Left Early options for PRESENT and Excused/Unexcused for ABSENT).
Next, from the Email Blast window, follow these steps to send:
If presented with the option to do so, choose your options for how to send the emails (One per enrollment, One per family, etc.). (These options will vary depending on which page you are sending the Email Blast from.)
Optional: Select a predefined Custom Email Template to use. (Selecting a template will automatically fill in the Subject and Email Body.)
Enter a Subject for the email.
Add your message (text) in the Email Body.

Using the "Variables" menu option in the Email Blast composition window allows you to select an email variable from there and insert it into the Email Blast.




When entered, it will display a "friendly" name reflecting the kind of information that will be inserted rather than the variable itself. The variables displayed are contextual based on which page you are on when composing the Email Blast. (That is, only variables available from the STUDENTS page will show for Email Blasts composed there, only variables available from the FAMILIES page will show there, etc.)

Variables that are manually typed will automatically reformat to the "friendly" name when you press the space bar after entering the variable.

NOTE: Any invalid variables will be replaced with an empty text string. You can use the Variables menu to select the correct entry if needed.

Using the "Variables" menu will also allow you to insert data from Custom Fields as email variables. These can be selected from the "[Page] Custom Fields" submenu of the "Variables" menu.

Optional: Add images to spruce up your message! (For more information on using images in emails, see our article "Inserting Images into iClassPro Emails.")
Click Send.
Note: While sending, the email will turn into a background task at the bottom left of your screen.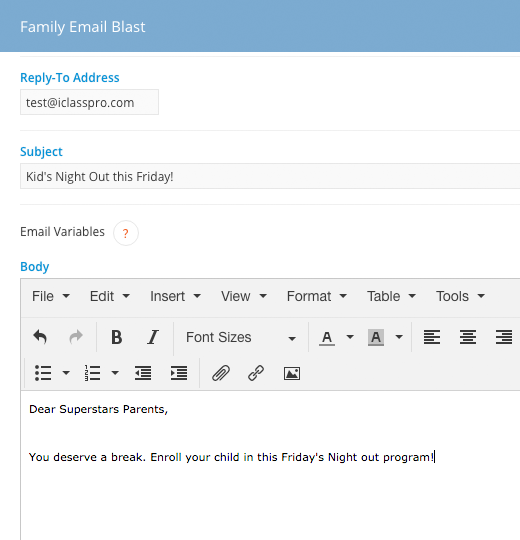 Emails sent through iClassPro will be delivered from our servers (not your inbox), using the email address (under Settings>Locations) for the toggled location as the "reply-to" address. The "from" address in the email will be noreply@ses.iclasspro.com, and your customers may choose to add that contact to their address book to ensure that they get emails and to prevent them from going to their spam folder. For more best practices and troubleshooting steps for email delivery, click here.
Scheduling Emails
From the FAMILIES and STUDENTS page, you will also be given the option to 'Schedule email to be sent at a later date and time."

Enabling this option will allow you to specify a date and time to send the Email Blast that is being composed.
Upon clicking SEND, a summary window will be displayed asking the staff member to verify that they wish to schedule the Email Blast. If the staff member clicks "YES", the system will create an entry in the 'Scheduled Emails' window for the task.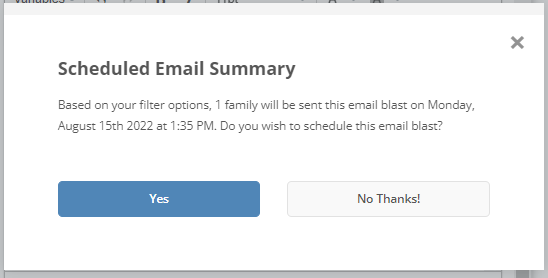 NOTE: If the system encounters an error sending at the scheduled date/time, it will continue to re-try for up to six hours. If the issue hasn't been resolved by that time, the task will be dropped.

During the re-attempts, the task will remain in the "Scheduled Emails" window and can be manually canceled if needed.
Sending Emails to All Addresses on File
By default, iClassPro only sends Email Blasts to the primary email address attached to the family. To send Email Blasts to all email addresses associated with the family, be sure to check the option to "Send a copy to all email addresses associated with each of the selected Families."
(The wording of this option may vary depending on which page you are sending the Email Blast from.)
Email Attachments
We understand that sometimes you want to send out documents to a large group of customers. That's why you can now upload documents in iClassPro for use in email blasts!

Customers can access these files by simply clicking on a link inserted in the email which directs them to the uploaded document.
First, select your intended audience, then click the email icon.
Next, select the Attachment icon within your email toolbar.
Upload or Select your attachment from the most recently uploaded list provided. You can select from any of your previously uploaded files by clicking the Show More button.
And you're done!
Your attachment will be created in the form of a clickable link.
Managing Your Files
You can manage your files by clicking Settings, then Uploaded Files. You are given 1GB of FREE Storage!

The following file types are accepted in iClassPro:
Document/Text Type files
If attached, these files will appear as a link or attachment in the email. (Note that some formats may require your customers to install an external viewer to open/view the file.)
DOC/DOCX
TXT
CSV
XLS/XLSX
PPT/PPTX
PDF
Image files
If attached, these files will be embedded in the email (if the customer's email client allows images to be displayed).
Explaining the Email Report
When your email has finished sending, you will find a document labeled "Email Blast :: SUBJECT OF YOUR EMAIL" in your background tasks. This document will contain information about what was included in the email, who it was sent to contacted (including any unsubscribed or failed email addresses), and the status of the email.
You can also use the "Update Statuses" button to have the status of the email updated at any time.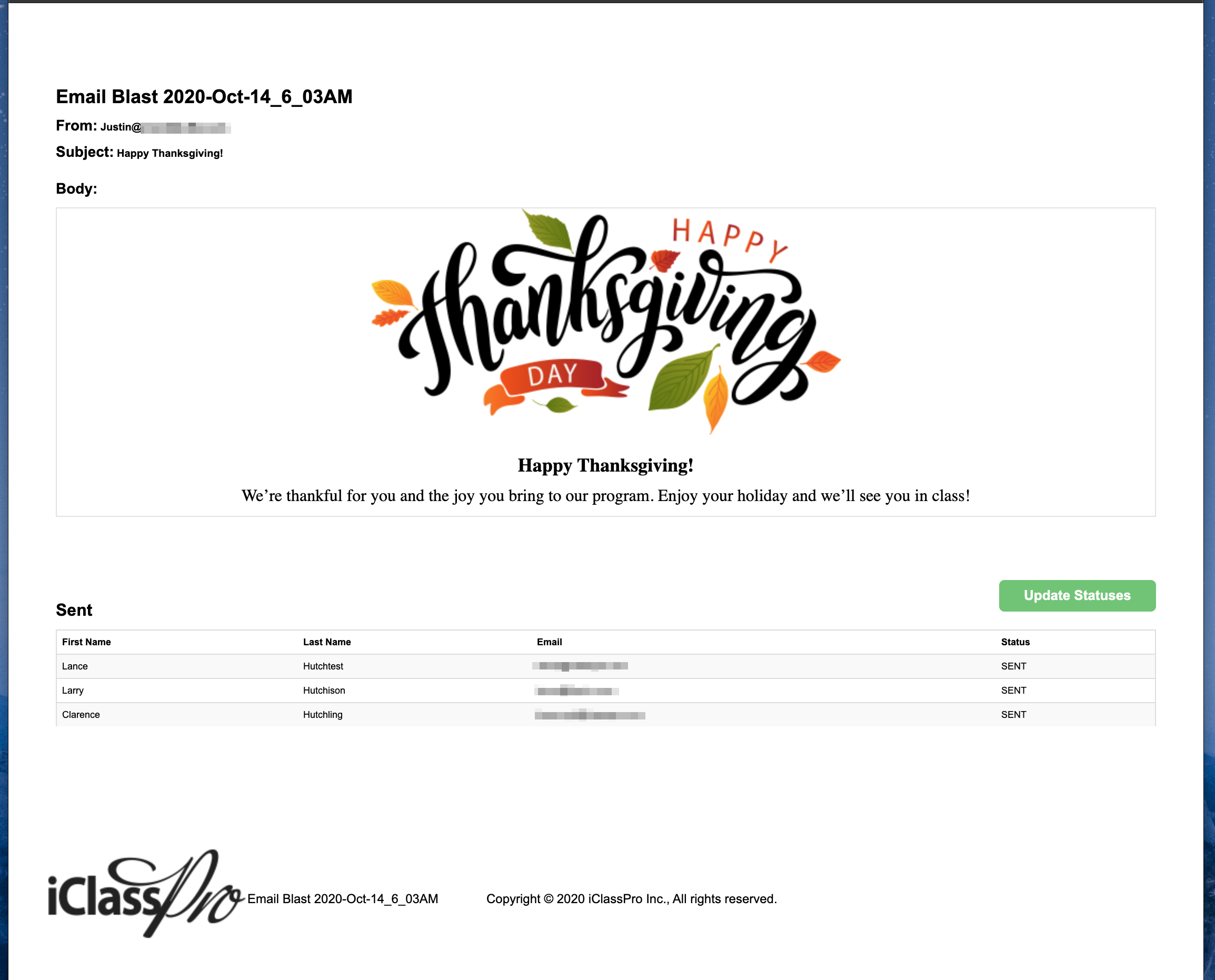 Note: You may wish to download and save this document for your records. This document will remain in your background tasks until it is deleted or 60 days pass, at which point it will be automatically cleared.