How does the iClassPro email blast work?
The email blast feature allows you to compose and send an email using images and variables to communicate with several customers at once! After clicking send, the task will be sent to the Background Task to complete.
When the emails are finished sending, a report will be available in your background tasks with a copy of the email you sent and a detailed list of emails it was sent to. It will also tell you which email addresses may have opted out of your email blasts and which emails were not valid.
Want to send more than a quick message? For professional templates, open and click analytics and more - check out our MailChimp integration!
Sending Email Blasts
From the family, student, classes, camps or staff pages, open the email blast window by first selecting who you want to email from the list, then clicking the email button as shown below.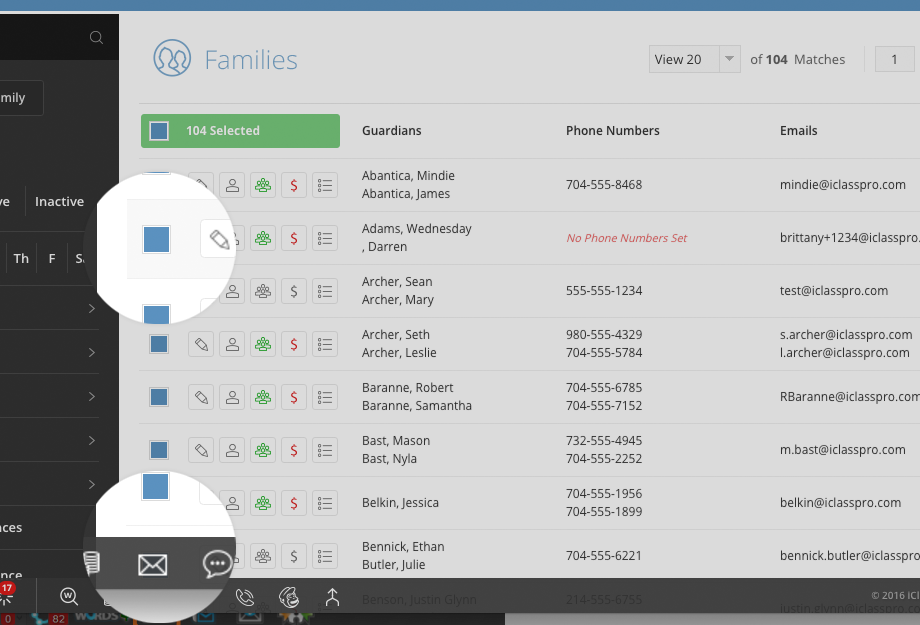 Tip: When sending email blasts from the classes page, iClassPro always sends to active enrollments on the current date. It does not use session or rolling dates to determine which customers to email. To send emails to past or future students, use the students page with the active filter and an accurate date for the enrollments.
Next, from the Email Blast window, follow these steps to send:
1. Enter a subject for the email.
2. Add your message (text) in the email body.
3. Optional: Add images to spruce up your message!
4. Click Send.
NOTE: While sending, the email will turn into a background task at the bottom left of your screen.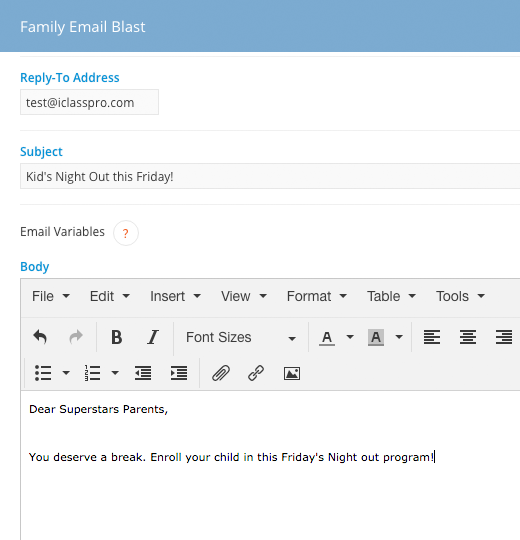 Email Report:
When your email has finished sending, you will find a document labeled "Email Blast :: SUBJECT OF YOUR EMAIL"  in your background tasks. This document will contain information about what was included in the email and who was contacted (as well as any unsubscribed or failed email addresses).
Tip: You may wish to download and save this document for your records. This document will remain in your background tasks until it is deleted or 60 days pass, at which point it will be automatically cleared.
Best Practices for Sending:
Emails sent through iClassPro will be delivered from our servers (not your inbox), using the "From" email address (under Settings>Locations) for the toggled location. This method of sending can be detected as "SPAM" or "Spoofing" by your customer's inbox without taking certain precautions.

For the best results to ensure that your email is delivered, use a dedicated domain-based email address that you own and control (ex: info@YourWebsite.com) and file a Sender Policy Framework (SPF) record on the matching domain (usually your website) to give iClassPro permission to send on your behalf.

Due to recent email industry changes, businesses who use free email services such as Gmail, AOL, Hotmail, etc. to send emails through third party services are more likely to have problems with emails not being received by customers.
Click here for more detailed instructions and information...