IN THIS ARTICLE:
Learn how to export time clock entries for use with ADP Payroll System.
Who should use ADP Exports?
The file generated when the export file type "ADP" is used is specifically designed to map to ADP Payroll System imports.
For assistance with completing fields and the actual import process, contact ADP support directly. You can also reference their Time Sheet Import and RUN guide at https://support.adp.com/adp_payroll/content/hybrid/@runcomplete/doc/pdf/GTS_payroll_guide.pdf

PRO TIP! The primary identifying information used to match up an employee/staff member in iClassPro with the same employee in ADP is the Employee Time Clock ID (found under the staff profile, in the Time Clock section).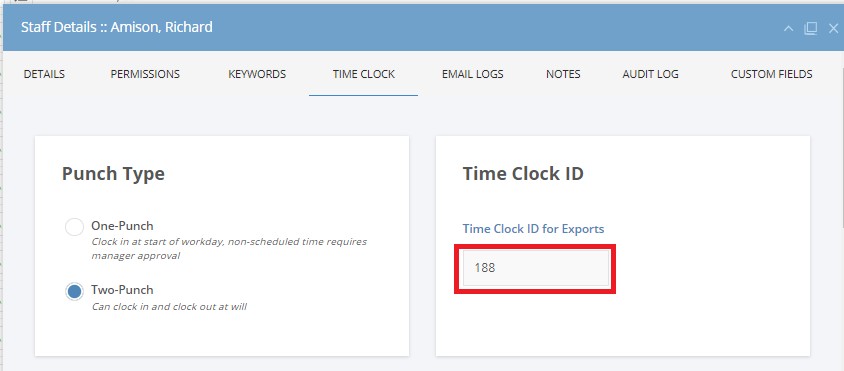 In addition, Rate Codes in ADP will need to correspond to the Staff Roles (Settings>Setup>Staff Settings>Staff Roles) recorded with the time entry.
These entries will need to match exactly between iClassPro and ADP in order to import data successfully.

About the CSV File for ADP Import
The file that is generated will be a csv file that contains the following fields:
ADP Field Name

Format

Description

Data Defaults

Company Code

String 15

Company ID

0

Pay Frequency

Defined

B = Biweekly
W = Weekly
S = Semimonthly
M = Monthly
Q = Quarterly

B

Pay Period Start

MM/DD/YYYY

First date of pay period included in file.

Blank

Pay Period End

MM/DD/YYYY

Last date of the pay period included in file.

Blank

Employee Time Clock ID

String

Unique Code for Employee Record

Staff ID

Earnings Code

Defined

REG (regular pay) or
OTP (paid overtime)

Regular Hours or
Overtime Est.

Pay Hours

Decimal

Number with decimal value

Hours rounded to quarter hour

Dollars

Decimal

Number with decimal value

Dollars earned before taxes (calculated using Hourly Rate X Pay Hours)

Separate Check

Number

Separate Check Value 0-9

Blank

Worked in Dept

Defined

Name of Department where work was performed

Blank

Rate Code

Defined

Pay rate that should be applied.

Title/Position/Role