IN THIS ARTICLE:
Learn how to create new Punch Passes in the iClassPro Office Portal.
The first time you create a Punch Pass, the system will automatically create a "Passes" category in the POINT OF SALE>CATEGORIES section and automatically assign that category to the Punch Pass.
Creating a new Punch Pass
To create a new Punch Pass that can be purchased via the Point of Sale system, navigate to USER MENU>PUNCH PASSES.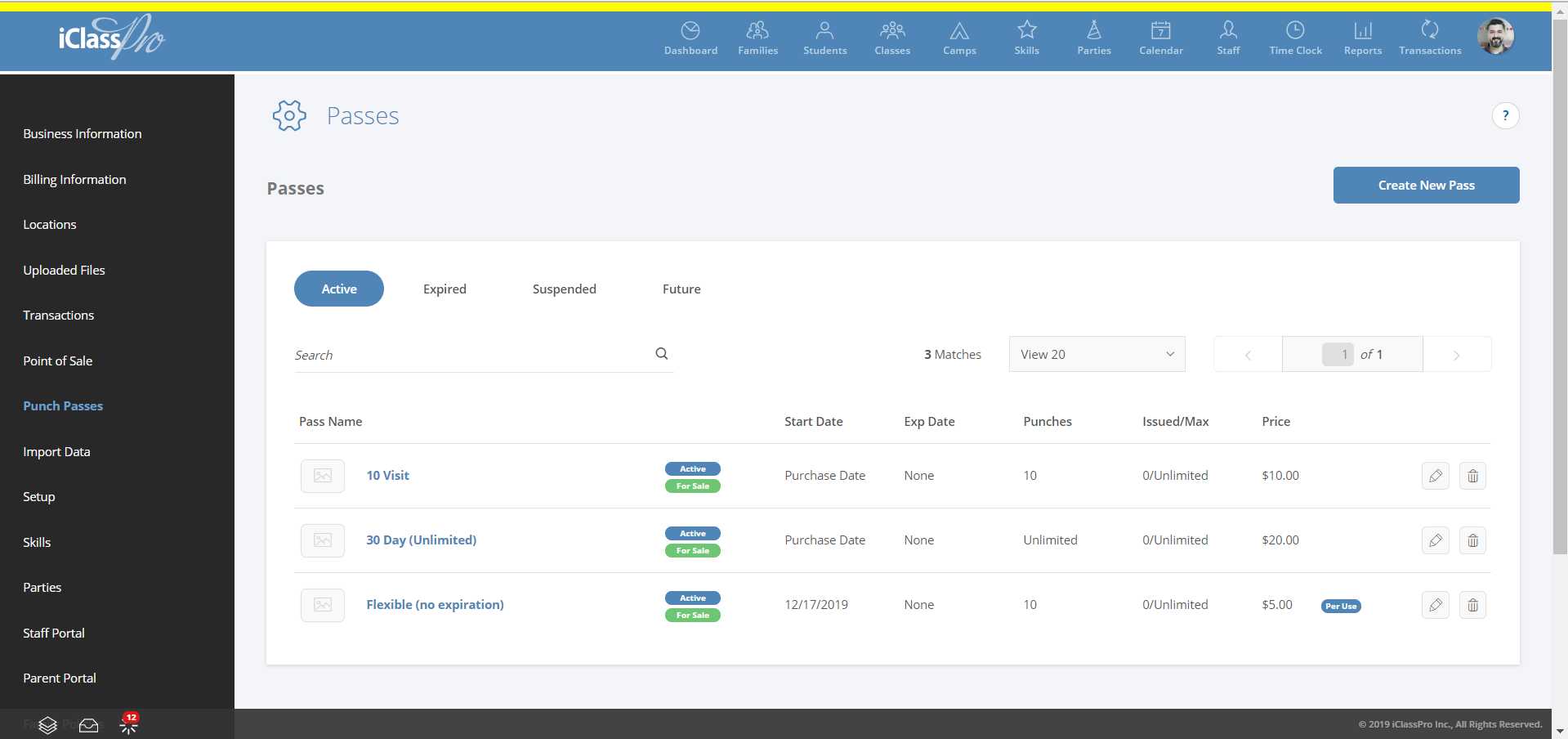 Click CREATE NEW PASS: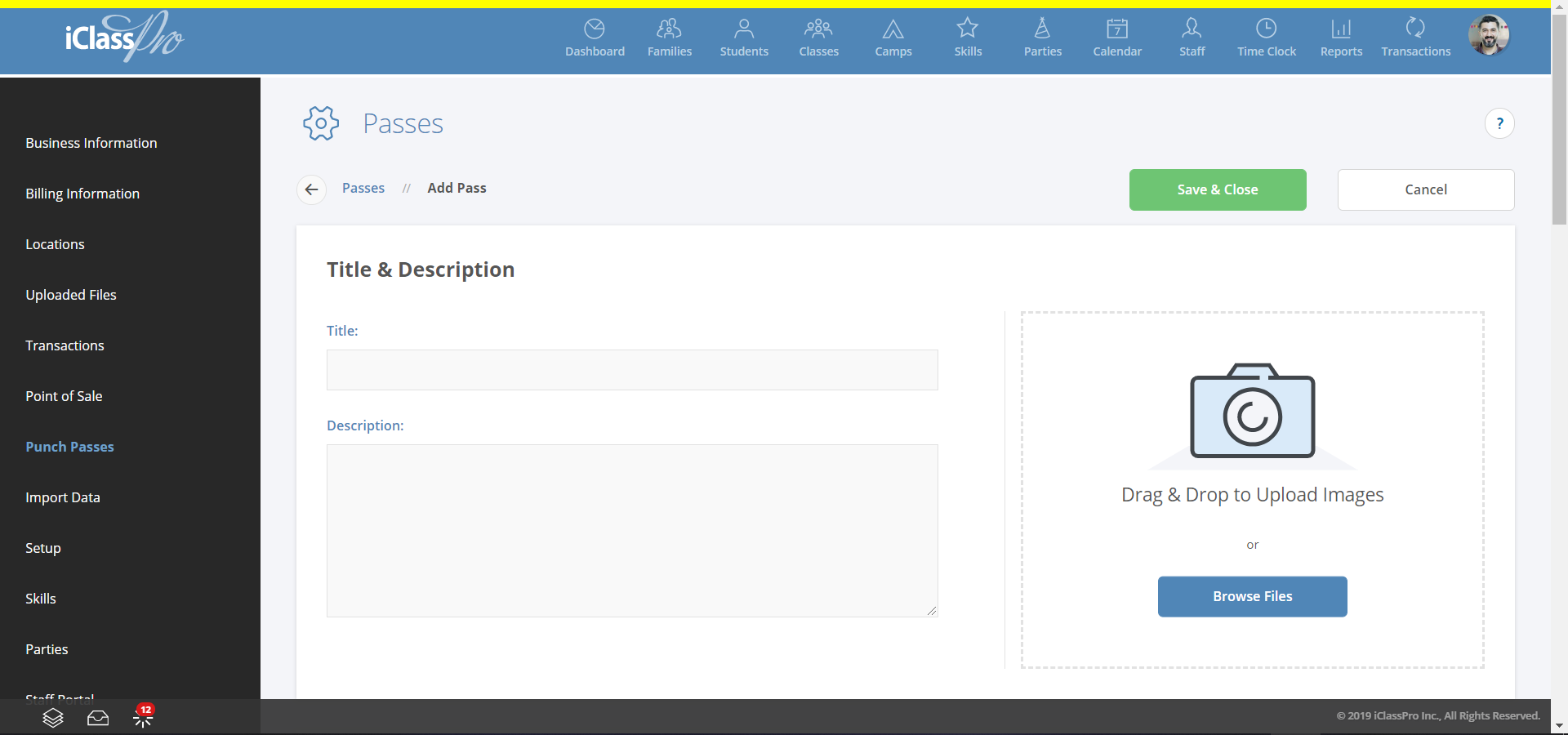 When creating a new Punch Pass, you will need to enter the following information:
Title & Description
Title – Used to identify the Punch Pass; will be displayed in the Point of Sale, Office Portal (when staff are viewing Punch Pass information) and to parents in both the Customer Portal and Check-In Kiosk (if those options are enabled)
Description – only viewable to Staff members in the Point of Sale screen.
Image (optional)
Details

Visibility

Available for Sale – determines whether a Punch Pass is available for purchase within the Point of Sale system in the Office Portal.
Disable Sale on Customer Portal - determines whether a Punch Pass is available to purchase from within the Point of Sale system in the Customer Portal/Mobile App. (By default, all Punch Passes are eligible for purchase from the Customer Portal/Mobile App if SETTINGS>CUSTOMER PORTAL>OTHER SETTINGS>PUNCH PASSES>"Enable Purchase on Customer Portal Point of Sale" is enabled.)
Disable Redemption on Customer Portal - determines whether a Punch Pass is available to be redeemed from the Customer Portal/Mobile App. (By default, all Punch Passes are eligible for redemption from the Customer Portal/Mobile App if SETTINGS>CUSTOMER PORTAL>OTHER SETTINGS>PUNCH PASSES>"Enable Redemption on Customer Portal" is enabled.)

Price/Priced Per Use

PRICE – purchase price of the Pass is a single flat amount
PRICED PER USE – purchase price of the Pass is determined by the number of uses defined

Max # of Uses/Unlimited

If "Priced Per Use", this becomes "Default # of Uses"

Max # of Passes Issued/Unlimited

MAX # OF PASSES – limits the number of specific Punch Passes that can be sold
UNLIMITED – there is no limit to the number of specific Punch Passes that can be sold

Pass Date options

Has Start & Expiration Dates
Has No Expiration (Requires start date)
Expires "X" Many Days from Purchase
NOTE: The "Expiration Date" is the date after which the Punch Pass is no longer accessible for the families to redeem. However, it does not restrict the start date of the enrollment for which the punch is redeemed.

For example, a Punch Pass that expires on September 30th can still be redeemed for an enrollment that will take place on October 3rd, as long as the redemption takes place before the end of the day on September 30th.

Program – used when a charge is created for the item; can be used to help filter financial reports to reflect Punch Pass purchases.
Charge Category – used when a charge is created for the item; can be used to help filter financial reports to reflect Punch Pass purchases.
Tax Rate – used when a charge is created for the item.

Use Program Tax Rate (the system will use the location-specific tax rate associated with the selected program -- this is the default setting if nothing else is selected)
Select a specific Tax Rate (this will override any location-specific tax rate associated with the selected program)
Tax Exempt (if enabled, sales tax will not be figured when a sale is recorded for this Punch Pass, even if a tax rate is assigned to the selected program)
For Classes
By Location/Program
By Individual Classes