IN THIS ARTICLE:
Learn about the Skills Activity Log and how you can use it to send communications to customers about their student's skill progression, including sending emails and generating certificates.
What is the Skills Activity Log?
The Skill Activity Log allows staff members to view recent evaluations and communicate those evaluations to customers. From this page, you are able to send emails to customers which will include evaluations of your choosing and certificates for passed levels. You can also simply generate printable certificates.
What Permissions are needed?
To view the evaluations on the skills page, staff members must have a minimum of "View" permissions for the Evaluations (Skill Tracking) setting. Staff without a minimum of "View" permission will receive a message that they do not have the necessary permission to view the page. Staff members with "Full" permissions for Evaluations (skill tracking) will be able to edit or delete evaluations from this page.
Page Indicators

The indicators at the top of the page provide a quick overview of the items in the page which are selected and the options available for the selected items (to email families or print certificates).
Number of Students and Families -

totals can be different depending on whether siblings are selected.

Number of Evaluation -

composed of new skill evaluations, passed levels and passed events

The action indicator

"Send Emails Now" will send an email to your parents notifying them of all selected evaluations and include certificates for passed events and levels.
"Clear Selected" will clear selected evaluations from the queue without sending any emails or downloading certificates.
"Download Certificates" will simply generate certificates that can be downloaded. If no passed levels or events are selected, the certificates option will not be active.
Filters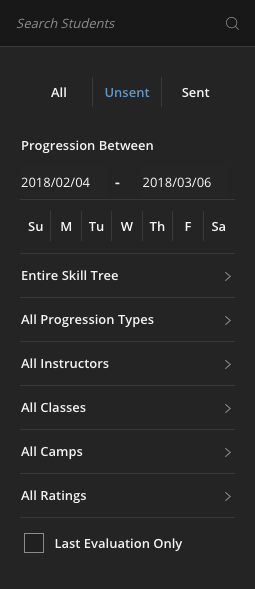 Search

- by student's name

Email Sent Status

- defaults to unsent to make it easy to communicate new evaluations

Date range

– will only show skill evaluations and events/levels marked as passed within these dates

Day of class -

choose the day of week the class takes place

Skill Tree

- select all or part of a skill tree to search for certain evaluations.

Progression Types

- choose from "Passed Levels", "Passed Events" and "New Evaluations".

Instructor selection - filters to only students in classes/camps taught by the instructor
All Classes

- allows the business to filter down students by a selection of one or more classes.

All Camps

- allows the business to filter down students by a selection of one or more camps.

Option to "Last Evaluation(s) Only" - This will include only the last evaluation for any skill evaluated during the time frame in the email sent, rather than the full progression of that skill (possibly several evaluations) over that period. When using this option, the status of "Skipped" will be applied to any earlier evaluations within the date range to avoid having them shown as "Unsent" and having staff accidentally email customers copies of outdated evaluations.
If the staff member uses filters which exclude all of the results, they will receive a "No results found!" message.
Actions
If the option to "Automatically send out congratulations email when passing level" is enabled under SETTINGS>SETUP>GENERAL SETTINGS>SKILL TRACKING, any evaluations for which emails have already been sent will not appear in the results.
Selecting Student(s) – Click student name to view/hide the details of their evaluations (skills, events, levels). Select/deselect certain evaluations (skills, events, levels) to choose what will be included in the email communications or downloaded certificates. Click the rating to launch the window to edit or view the evaluation.
Send Emails Now – choose to send emails to families of selected students (containing only selected evaluations).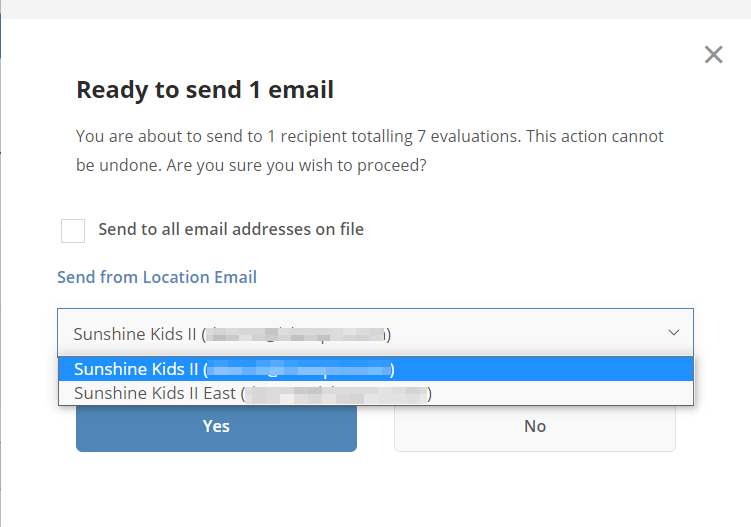 Only families who have opted in to receive Email Blasts will be included when sending emails from the Skill Activity Log.
This window displays option to

Send to All Emails Addresses on File

for the family. If not selected, only the primary email on the family will receive the update. Clicking

Yes

will send evaluation emails;

No

will cancel.

If your account has multiple active locations, there is also an option to Send From Location Email. This allows you to select specific location so the emails will show to come from the email address associated with that Location under SETTINGS>LOCATIONS.

If you have only selected evaluations with the Skill Progression type "Passed Levels", you will be given the option to select a Custom Email Template (leaving the selection menu blank will use the default Skill Progression Email template). However, if you select any additional evaluations that are NOT "Passed Levels" (such as "Passed Events" or "Skill Evaluations"), this option will not appear.


After clicking

Yes

, a background task will be started while the system sends the emails.

An in-page notification will appear to let the user know the emails are sending. Dismiss the notification and go back to the Skills page body by clicking

Great

.

The student(s) which were included in the email will now show under the status

Sent

from the skills page.


Note: The Branding Colors in the email will utilize the color selected for the Customer Portal accent color under SETTINGS>CUSTOMER PORTAL>SETTINGS. (Congrats, student name, View Skill Tree button). The content of the emails is auto-generated and cannot be edited.
Download Certificates – allows the staff member to generate PDF copies of certificates for any Events or Levels that have been marked as passed for the student(s).
This button begins a

background task

to generate the selected certificates as a PDF file.

After it finishes generating, click on the background task to open and to print or download

a copy of the certificate(s)

If only one passed level or event is chosen before clicking generate certificates, the PDF file will be named by the event or level and the student name.
Ex: Completed Event 002 Event Certificate for Brittany Houser

If multiple passed levels or events

are chosen (for one or more students) a single PDF file will be created with the title of "Completion Certificates" and will contain one page per certificate selected.
Customizing your certificates
Certificate branding colors

reflect the selected Customer Portal branding color under SETTINGS>CUSTOMER PORTAL>SETTINGS.

The Logo on the certificate is from SETTINGS>CUSTOMER PORTAL>SETTINGS>LOGO.
Watch the video!