IN THIS ARTICLE:
Learn how to process eCheck payments, including saving eCheck information to families, viewing payment details in your iClassPro Merchant Portal, and how to handle returned or declined eCheck payments.
Saving eCheck information
If eCheck is enabled as a payment method on your iClassPro account, you will be able to store bank account information for use when running either individual payments or bulk payment tasks.
Go to the FAMILIES page and locate the family you wish to save eCheck information for.
Click the pencil/edit icon next to the family to access the family details page.
Click the "Billing" tab.
A family can only have one saved form of payment on file. If the "Billing" tab already shows that one is saved, you will need to click the DELETE PAYMENT INFORMATION button to remove it in order to enter a new form of payment.
Once the form is blank, choose "Echeck" as the Payment Method, then click the LOAD FROM PRIMARY GUARDIAN button to copy the primary guardian name and address details from the "Details" tab.
Enter the Bank Name and choose an Account Type.
Enter the Routing Number and Account Number. Be sure to double-check these numbers to be sure they are correct and that they are in the correct fields.
Click SUBMIT AUTOPAY INFORMATION to save the payment method to the gateway.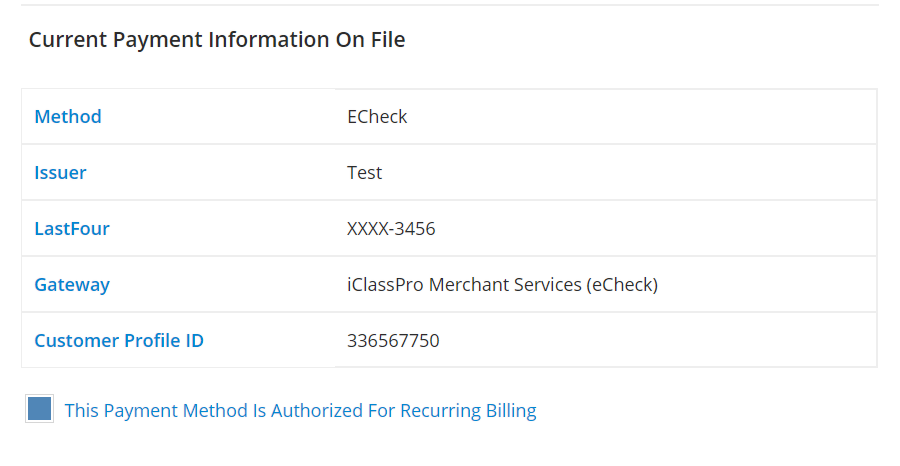 If the information was submitted successfully, you should see that the "Billing" tab now looks similar to this:
"This Payment Method is Authorized for Recurring Billing" will be checked by default and therefore the saved payment information will be used whenever you run payments using this method (either by choosing Payment Type 1 when running manual payments or "Charge From Merchant Account" when running the payments task under TRANSACTIONS>PAYMENTS). If the saved payment information should not be used for collecting recurring monthly charges and should only be used for occasional one-time payments made directly at the family ledger, you can uncheck this option.
For information about using stored information to run a payment, see our document: "How Do I Process Payments from Stored Payment Information?"
Viewing eCheck information in your Payment Gateway
You can view information about eCheck payments and run reports by accessing your Payment Gateway. Note that these transactions and reports generated from the search results will not reflect any transaction fees. (You can get a monthly report showing these fees by going to OPTIONS>SETTINGS>BILLING STATEMENT in the Payment Gateway if needed.)
To access your Payment Gateway go to https://secure.iprogateway.com and enter your username and password.
If you have both credit card processing and eCheck processing, these gateways will have two different usernames. Be sure you are using the appropriate login for the type of payment you are wanting to view.
Once logged in, click on REPORTS: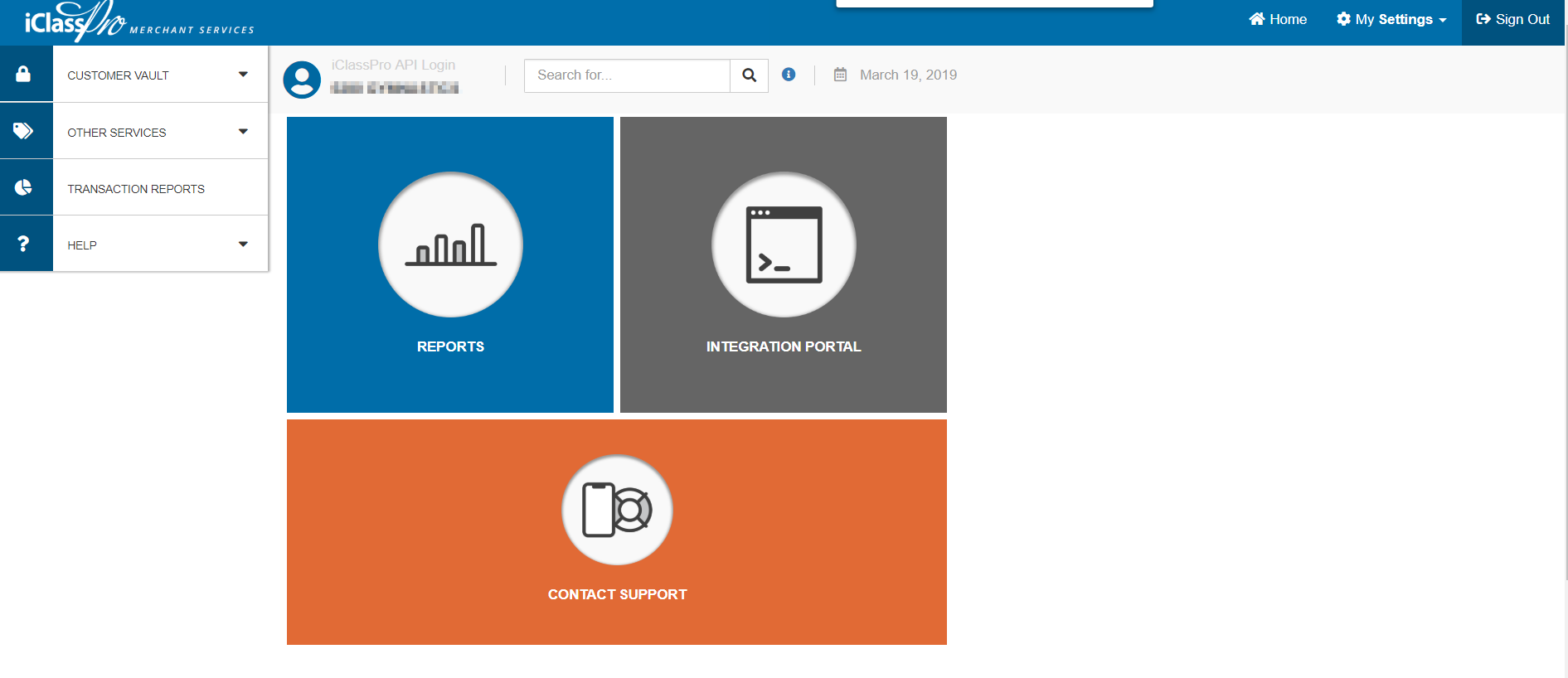 From here, you can research transactions by searching for various criteria. In the "Transaction Snapshot" section you can view a list of all transactions grouped by settlement batch. From here, you can download a report of the transactions.
In the "Search Transactions" area, you can search all transactions for particular criteria, including the name of the customer, email address, transaction status or transaction ID number. Again, you can download a report of the results.
So for example, if you wanted to get a list of all failed transactions within a particular date range, you would go to the "Search Transactions" area and choose "Failed" in the STATUS menu. Set your date range for when the payments would have been created and then click SUBMIT to search.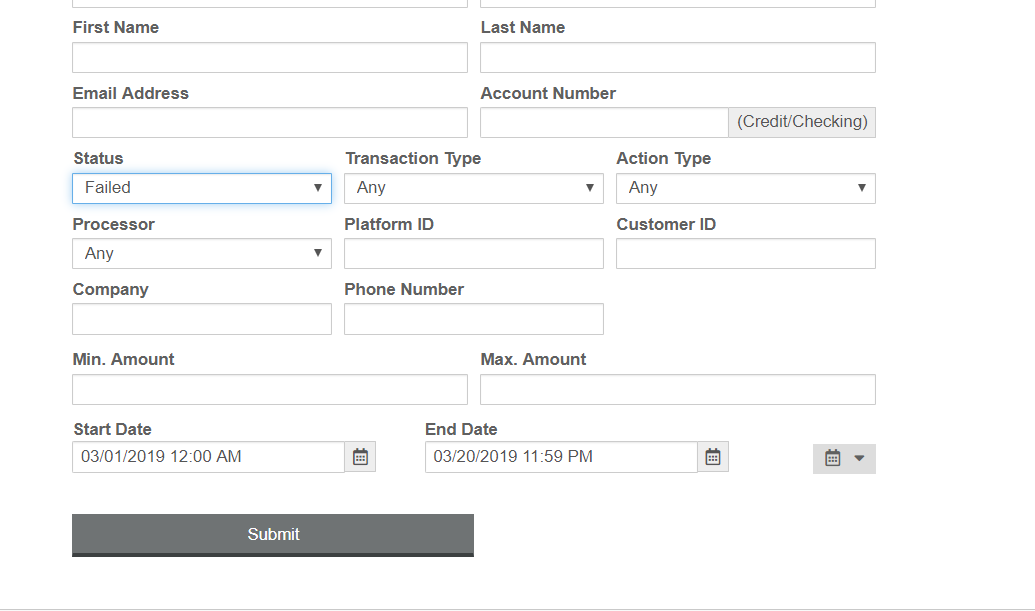 To view more details about a failed payment, click on the transaction ID. To download a report with the results, choose the format (XLS/CSV) and click "Download Transactions."
Handling returned/declined eCheck payments
Since eCheck transactions are just like check payments, there is always a chance of the check payment being returned due to reasons such as "Account Closed" or "Insufficient Funds". All eCheck payments are considered to be successful at the time they are created. Usually there is a 3-5 day settlement period for eChecks, at which time the checks will either be processed or rejected by the account holder's bank. You should receive an email from iClassPro Merchant Services related to any failed eCheck payments.
If you receive notification that an eCheck payment was declined for any reason, you will need to manually adjust the family's ledger to reflect this.
Since iClassPro keeps a record of deleted payments on financial reports for the day they were deleted (and reference the deletion on historical financial reports for the day it was taken), we recommend recording the transaction ID, date and amount, then deleting it and referencing that in the Returned Check Fee charge title, such as "NSF Fee - eCheck [transaction id] on [date] for [amount]".
This information can be found by clicking the pencil/edit icon next to the payment to be deleted: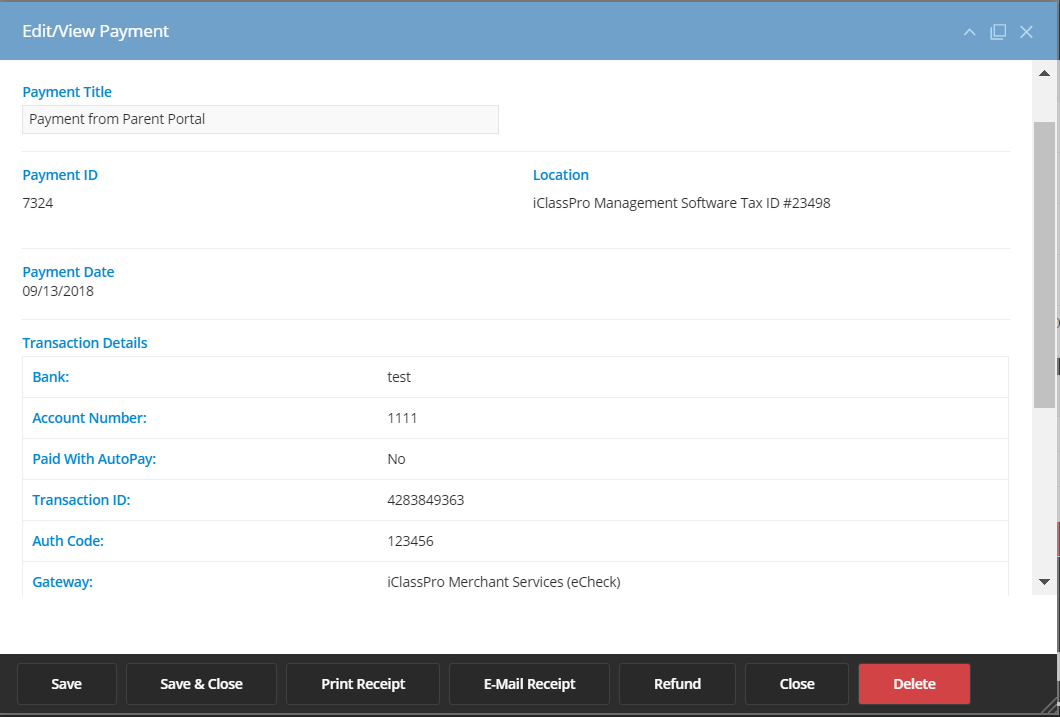 If you do not charge a Returned Check Fee, then we recommend creating a family note with this information after deleting the payment so it is available in case there are ever any questions.
After noting the information, you can use the red DELETE button at the bottom of the window to delete the payment.