Go to the family section and click on New Family.

Enter family details. Important information to include is at least one guardian name or contact, a phone number, physical address, email, and "How did you hear about us?." Some of this information is found under the "View More" link below the email addresses in the default view. This info is required on the online signup forum, and should also be completed by staff members for consistent and complete records.

Save Family. This will activate some of the remaining optional tabs of information.
(Optional) Enter Students using the add student button to the right.
(Optional) Enter new Enrollments for students in this family at the bottom of the page.
(Optional) 

Enter

 any charges or payments on the family ledger.
(Optional) Enter any Autopay information that may be required to store on file in the Autopay Tab of the family details.
(Optional) Enter written Policy Agreements if the family has agreed to your policies on paper.
(Optional) Attach any Keywords to the family which may apply from the Keywords tab.
(Optional) Include any special Notes about the family in the notes tab.
(Optional) Fill out any Custom Fields that have been created for use by your business.
Save any additional changes since step 3.
Additional Instructions
Policies Tab: Below is an example of the written policies being saved on file. To have a family agree to a set of policies that is printable from this window, have the family go online to the parent portal using the email address they provided to agree electronically.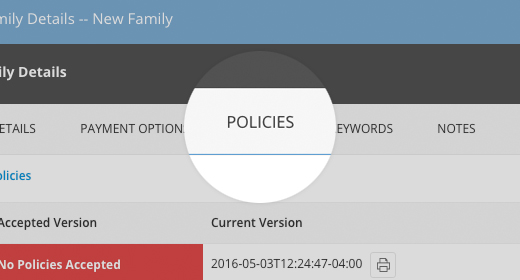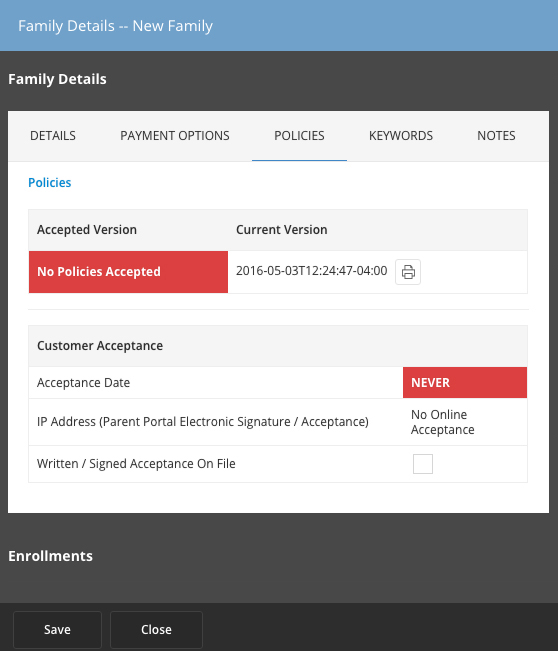 Payment Options Tab:To keep autopay information on file, you must have a gateway set up on your account. Then, go to the payment options tab, enter the customer's payment information and click Submit Information, and then save the family. Pressing Submit sends the information to the gateway to be stored and creates a link to that profile within iClassPro. Saving the family saves the link between the family in iClassPro and the gateway.