IN THIS ARTICLE:
Learn how to access and navigate the Staff Portal mobile interface, including options for filtering and how color coding works when viewing classes and camps.
Accessing the Staff Portal
After enabling the Staff Portal and giving staff the proper permissions to access it, logging into the Staff Portal from a computer or your mobile device is as easy as inserting your iClassPro account name in the link below and pasting it into the web address in your browser!
https://app.iclasspro.com/staffportal/[YourAccountNameHere]
Note: Once there, bookmark this page for easy access on your device!
Start by logging in with your username and password from the login page.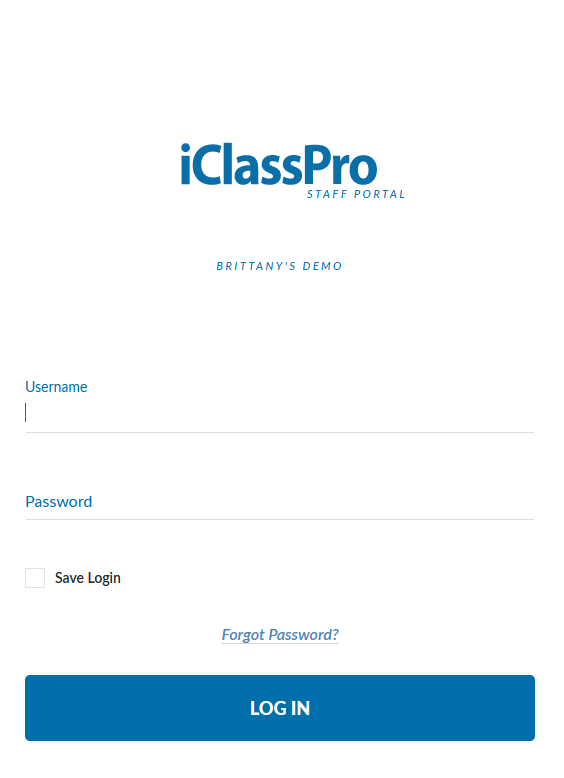 iClassPro will automatically log you out of your session after one hour of inactivity.  Note that "activity" is considered any action that submits data from the browser to the server. Simply typing data into a text field does not actually send anything to the server until you click an option such as SUBMIT/SAVE/CREATE/etc.
Staff Portal basics
Once logged in, you will have access to Staff Portal options at the top right of the page: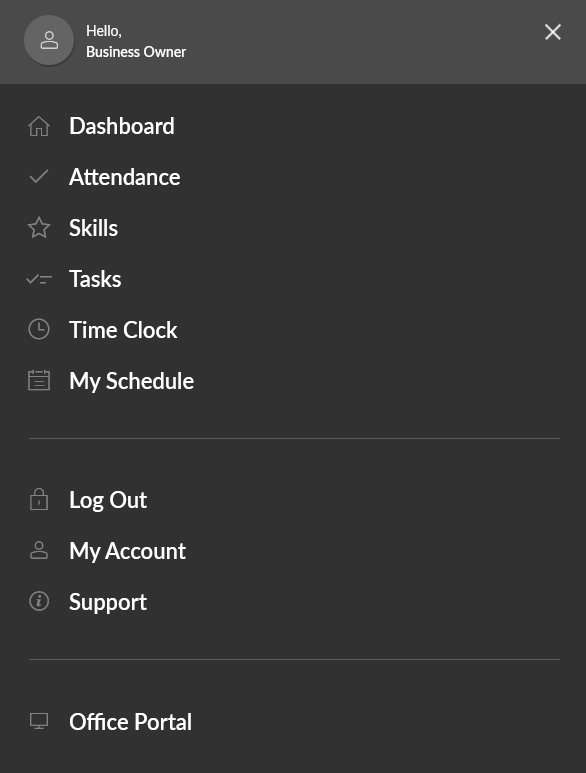 These options include:
Dashboard - takes the staff member back to the main screen to select between the Attendance, Skill Tracking, and Time Clock modules. (Which options are displayed are based on the staff member's permissions.)
Attendance - takes the staff member to the Attendance module (only displayed if their permissions allow).
Skills - takes the staff member to the Skills module (only displayed if their permissions allow).
Time Clock - takes the staff member to the Time Clock module (only displayed if their permissions allow).
My Schedule - takes the staff member to the "My Schedule" module where they can see which events they are assigned to for the selected date.
Log Out - logs the staff member out of the Staff Portal.
My Account - allows the staff member to edit their email address, password, or phone number.
Support -  takes the staff memberto iClassPro's Support page.
Office Portal - takes the staff member to the full iClassPro application with limited mobile compatibility.
There are Filters at the top of the page for the date, a class/camp list which displays by default, and a search tool. All of these options will modify the list of classes and camps shown below for attendance.
Class vs. Camp vs. Appointments color coding
Within the lists of events, classes are indicated with a blue line, camps are shown with an orange line, and appointments are shown with a purple/magenta line.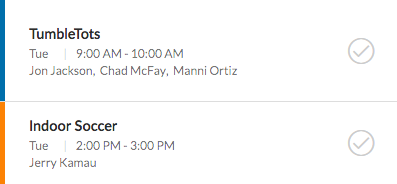 Quick Attendance Indicator
A check mark icon appears next to classes to easily indicate whether or not attendance has been recorded for classes for a specific date. A green check mark indicates attendance has been recorded, while a light grey check mark indicates attendance has not been taken.