For customers who allow single day, one-off enrollments, iClassPro now offers a Single Day enrollment type! These enrollments have the same start/end date, but unlike TRIAL and MAKEUP enrollments, there is a fee associated with it.
The fee associated with a Single Day enrollment is a single timeslot or hourly charge (if you have the class billing set up that way), or is based on the prorated amount of a single day's enrollment (if the tuition on the class is a flat monthly/session rate).
If you use flat rate billing, proration must be allowed on classes for the system to charge the correct amount for the enrollment. Otherwise the system will charge the full monthly/session tuition price.
When creating charges for Single Day enrollments, be sure to use the Charge Category for the correct month n order to reduce the possibility of double-charging for an enrollment when running the Class Tuition Charges task.
Currently, a Single Day enrollment can only be created by Staff members in the Office Portal if the enrollment type is enabled under SETTINGS>SETUP>CLASS SETTINGS>GENERAL CLASS SETTINGS.
While Single Day enrollments are not included in your ACTIVE class enrollment totals, they do count against class openings on the enrollment date. This is to keep from exceeding your student-to-instructor ratio with too many Single Day enrollments.
The Class List Report, Program Summary Report, Level Summary Report and Special Enrollments Report have been updated to include options to show Single Day enrollment types, displaying the "Single Day Enrollment Label" you select if you choose to allow this Enrollment Type.
CONFIGURING SINGLE DAY ENROLLMENTS
To enable Single-Day Enrollments:
Go to SETTINGS>SETUP>CLASS SETTINGS>GENERAL CLASS SETTINGS
Check "Enable Single Day Enrollments in Office Portal"

Assign a "Single Day Enrollment Label"
(defaults to "Casual" if no option is chosen)

Casual
Drop-In
On Demand
Single Day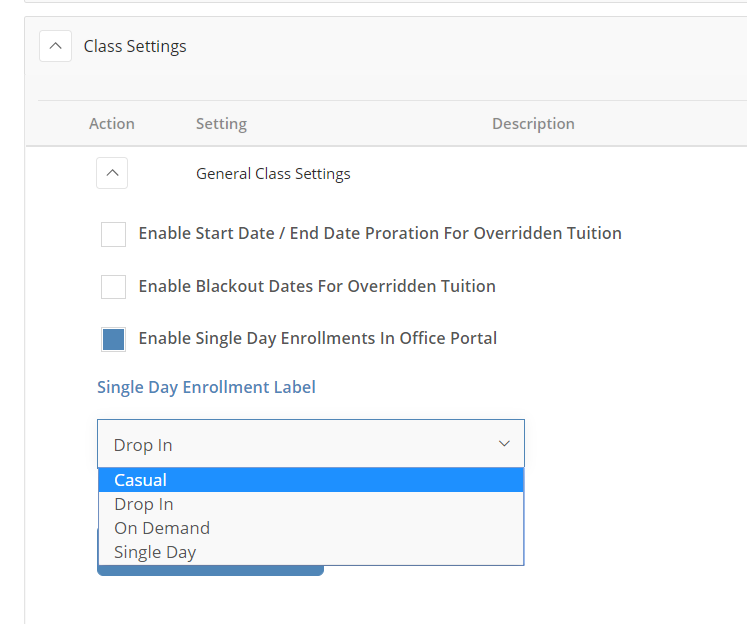 IDENTIFYING SINGLE DAY ENROLLMENTS
Note that the label reflected in the drop-down menu or enrollment listing for Single Day Enrollments will reflect the selection made under SETTINGS>SETUP>CLASS SETTINGS>GENERAL CLASS SETTINGS.
When Creating an Enrollment: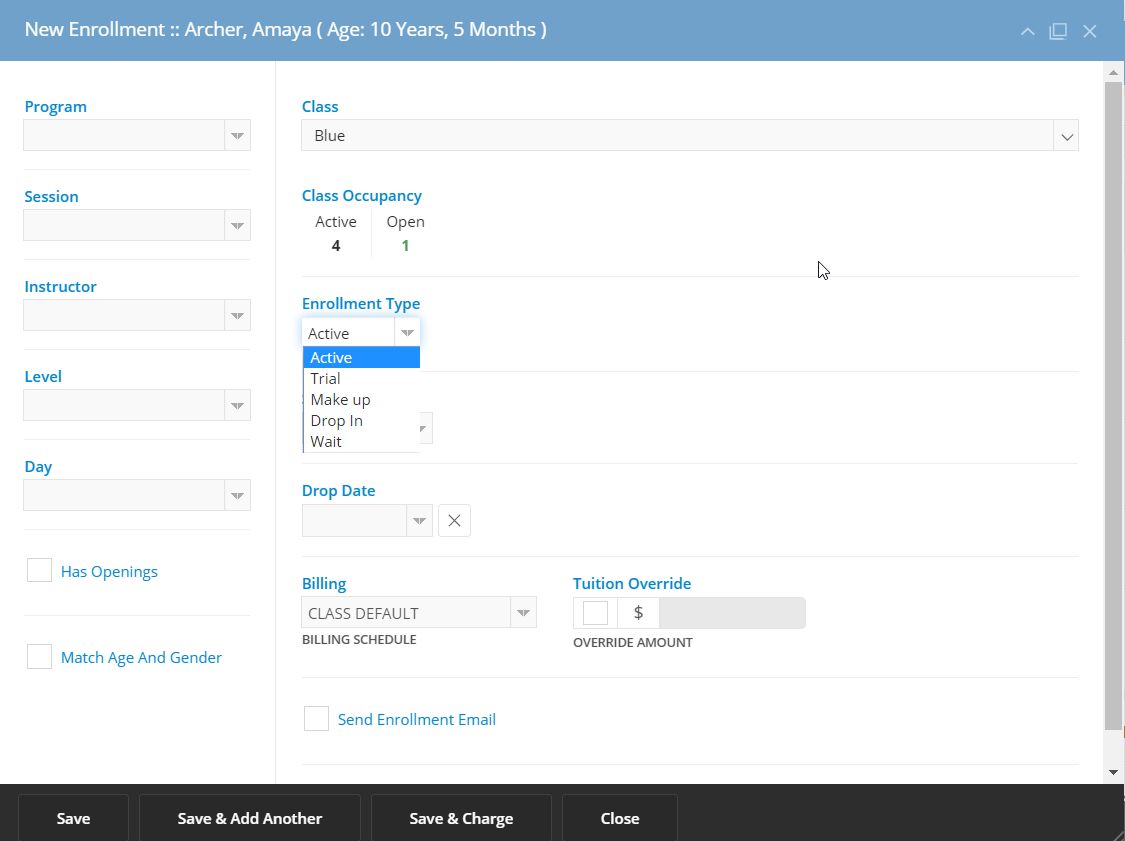 In the Family/Students Enrollments View:

On the CLASSES Page:

Single Day Icon that appears in Staff Portal:

Staff Portal enrollment view (w/icon):