IN THIS ARTICLE:
Learn more about iClassPro's SMS/text messaging and voice broadcast feature and how to use it.
Setup
NOTE: This feature is currently available at the rates shown below. Credits must be purchased prior to the use of this feature. Because this service incurs additional fees, you must be logged into a profile with "Admin Access" permissions enabled whenever you purchase credits. Replies are not available.
| Country/Cost Per Credit | SMS | Voice |
| --- | --- | --- |
| US/Canada ($0.03 USD) | X | X |
| Australia ($0.08 USD + additional monthly fee) | X | * |
| United Kingdom ($0.03 USD) | X | * |
| For all other countries, please contact us for availability and pricing. | * | * |
* Subject to phone number and feature availability.
To set up this service for the first time, go to SETTINGS > SETUP > GENERAL SETTINGS > SMS & VOICE. You must have payment information on file in your iClassPro account to set up a number and purchase credits for messaging. (Payment information can be entered under SETTINGS>BILLING INFORMATION.)
Customizing SMS/Voice options
You can customize options related to SMS Messages under SETTINGS > SETUP > GENERAL SETTINGS > SMS & VOICE>"Message Options."
Message header - (Limited to 50 characters) - This message will be prepended to manually sent SMS messages and will contribute to the 160 character message limit. (Example: "Your Business Name.")
Message footer - (Limited to 50 characters) - This message will be appended to manually sent SMS messages and will contribute to the 160 character message limit. (Example: "To opt out, reply STOP.")
Signup Message - (Limited to 160 characters) - This message will be sent out automatically when a phone is opted in to SMS communication, either by a staff member or when the family performs the opt-in task via the Customer Portal or Customer Portal app. It will also be sent if the family texts the gym's SMS number to opt-in.

Each message sent will consume one SMS credit. (Note: The Header and Footer are not included with the Signup Message.)
Available SMS Hours

Start Time/End Time - Defines the time window that SMS option is available on the account for use. Sending mass SMS messages will only be available between these times.

Before or after these times, clicking the mass SMS message icon will result in a warning message, with an option to override based on permissions. Please note that messages are sent one at a time and may finish sending after the end time.
Consider Updating Your Policies
Businesses that use Voice Broadcast and SMS may get several questions about how the SMS tool will be utilized. We highly recommend outlining policies for your staff about how and why SMS may be used to communicate with customers.
Once this is decided, relay this information to your customers by updating your Family Policies (SETTINGS>POLICIES>FAMILY POLICIES) so customers can review that information before signing up to receive messages.
Sending Out Messages
In order to send out mass SMS/Voice messages, staff members must have the "Mass Text" task permission enabled.
After enabling text messages on the family's page and purchasing SMS credits, the process is relatively simple.
From the family, students or staff page, use filters to narrow your search results to the intended recipients of the message. Select recipients by checking the box next to their names or by using the Select all box at the top of the page next to the column titles.
Once the customers are selected, click either the SMS/Text icon (left) or the Voice Broadcast icon (right) at the bottom of the screen.



SMS Eligibility
Since text messages cost money not only to send, but to receive (carrier costs), customers must voluntarily opt into this service. Normally, we recommend sending out an email blast, adding an announcement or posting a notice in your facility to inform customers that they can opt-in to receiving these messages from inside the Customer Portal. This can be done by logging into the Portal, editing their family information and selecting Yes for text messages next to their text compatible phone numbers (Seen below).
With consent, a staff member can also make these changes inside of the staff side of iClassPro from within a family or another staff member's record. (Depending on laws in your area, you may want to get consent in writing.)
SMS/Text Messaging Instructions
A new window will now appear titled Send SMS Message.
Clicking the SMS icon from the FAMILIES, STUDENTS, or CLASSES page outside of the designated "Available SMS Hours" will launch a warning prompt rather than the actual SMS Message window. This can be overridden to send the message anyway if the staff member has been granted the "Mass Text Availability Override" permission.)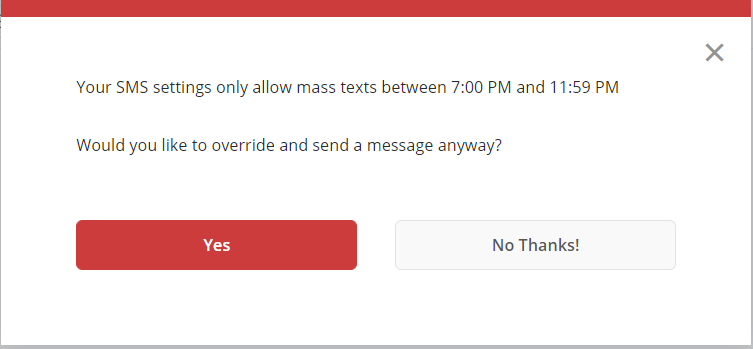 From here, you can enter the message you would like to send to the selected customers. This window will detail:
# of SMS messages being sent - which represents the number of customer phone numbers out of those selected that have enabled this feature.
# of SMS Credits - the number of credits available from prior purchases to send this message (if there are not enough credits to send the message to the selected group, you will also see a red notification).
__ of 160 characters left - one standard text message is limited to 160 characters.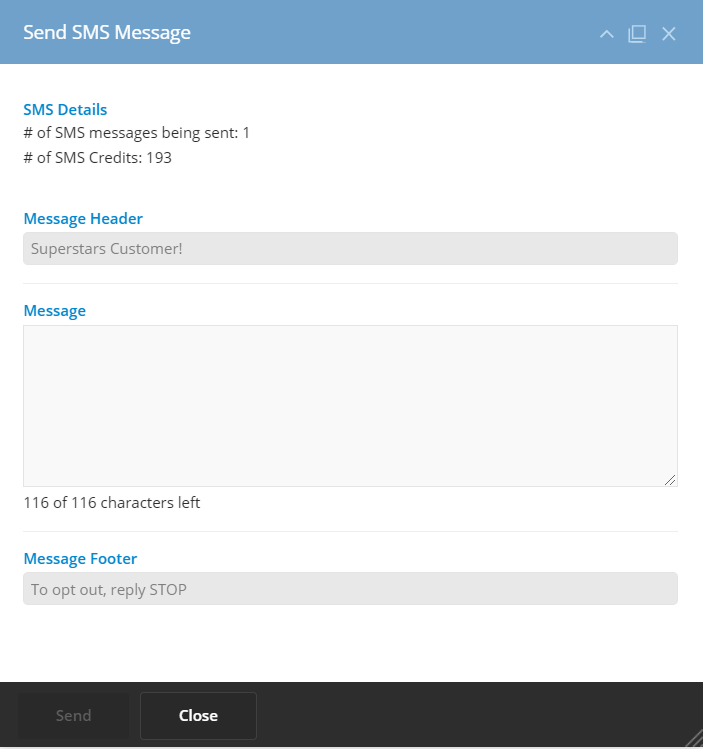 If the Header or Footer are defined, they will display before/after the message field in the SMS Message window and their character count will be subtracted from the 160 max count allowed per text message. To insure that they are included with every text message sent, the Header/Footer fields cannot be edited from this view.
After composing your message, click Send.
Our automated system will begin sending out the messages. Each successful message sent will create an entry in your audit log, similar to the one below:


Fee details
A standard text message is limited to 160 characters (including header and footer). One message to one recipient at or under this limit will cost one credit ($0.03 USD).
Credits will be charged for any message that returns a "Delivered" or "Undelivered" response. Any message that returns a status of "Failed" will not charge a credit.
Customer Responses
The messaging system in iClassPro only works one way. There is not a capability to receive messages back from customers through the SMS/Voice number.
Unsubscribing/Resubscribing from SMS by Text
However, customers can reply to the number to subscribe or unsubscribe. To unsubscribe after receiving a message, the customer can reply with "Stop", "Unsubscribe", "Cancel", "End" or "Quit". To resubscribe after stopping messages, a customer can reply to the number with "Start", "Yes" or "Unstop".
Voice Broadcast Eligibility
All customers at all numbers (US and Canada) are eligible to receive a recorded voice broadcast, making this the most sure-fire way to send out your messages. But if a customer misses the call, it can be nice to have a text message they can read later.
Voice Broadcast Instructions
Another window will appear asking for your phone number. Enter a phone number where you can be reached directly and you will receive a phone call from the Voice Broadcast System. Say "hello" when you answer the call to initiate the instructions which will walk you through completing the call.
To minimize costs, we recommend scripting the message you are sending beforehand, keeping it short and minimizing the amount of time it takes to answer and complete the call for the recording.
Fee details
With Voice Broadcasting, there are two credit fees involved in completing the process:
One credit is spent for each minute spent on the automated phone call in which you record the outgoing message.
Voice broadcasts cost one credit per minute per recipient, so if you record a two minute long message, you will pay 2 credits per phone number that is dialed.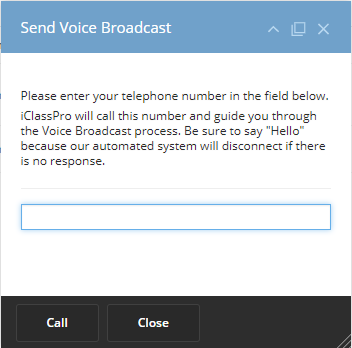 Once you hang up from your recorded call, your messages will be sent through the automated system.