IN THIS ARTICLE:
Learn about the Student Photo Waiver policy that is included in all iClassPro accounts, how to customize and activate it, and how it will impact the ability for Staff to upload and/or view student photos.
About the Default Photo Waiver
Each iClassPro account will start off with a specially designed student policy for a photo waiver. This policy is directly tied to the ability for staff members to take, upload and view student photos throughout iClassPro and cannot be removed from the software. For those businesses which may need consent to utilize student photos in any capacity (even internally) due to legal reasons, this new policy should be implemented to allow this functionality.
For convenience to those businesses which may want full control over student images, this policy is NOT active by default and will not impact the use of student images.
PRO TIP! If your business would like to keep permissions for the use of student images for promotional reasons optional, but also implement the special photo waiver functionality to allow the use of the student image in iClassPro itself, these should be entered as separate student policies. No other student policies created will control the availability of features in iClassPro in this way.

Implementation of the Photo Waiver
For those businesses which may choose (or are required by law) to allow parents/guardians full control over the use of their students' image – this policy will need to be edited. By default, it does not contain any official agreement text.
When you are ready to enable the policy, you will need to select "Active" at the bottom of the window. This allows staff members to begin tracking the policy manually on student records.
Selecting "

Visible to Customers

" will mean that the policy is implemented in the online registration process for customers. They will be presented with the policy the next time they sign in online.

Selecting "

Acceptance Required

" turns on notifications for staff members when enrolling students or taking attendance for students which have not accepted this policy. If the policy is also visible to customers, the customer must accept this policies for the student before they can enroll in a new class or camp.
Click here for more information about creating or editing policies.
Disclaimer: iClassPro does not provide legal advice and recommends that you contact a lawyer for assistance in drafting this policy if you do not already have a policy in place.
Impact of the Photo Waiver on functionality
Enabling this policy will immediately hide all student images and render new image taking for students impossible until the customers accept the student policy.
Once accepted, the images for the student with the accepted policy will display as normal and new images are able to be taken from the staff portal and uploaded by staff members onto student. If a customer chooses to reject the policy, their student photo will not be able to be taken, uploaded or displayed inside of the iClassPro software. Rejecting the policy after photos have been uploaded to the system will delete the stored photos.
For students which the special photo waiver policy has been rejected for, the student photo area will not appear on the student's profile.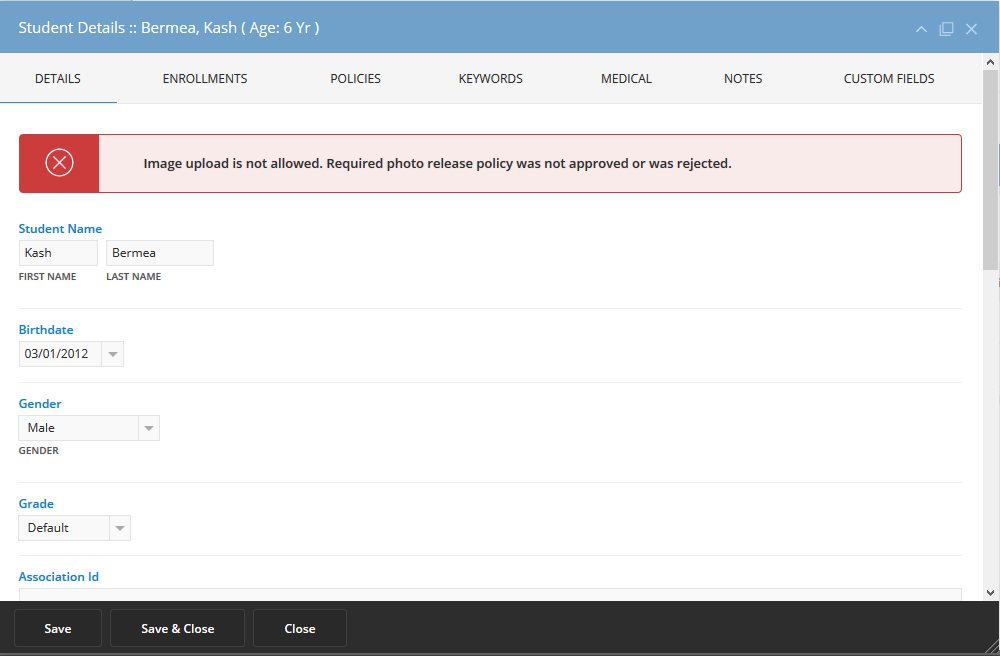 When taking attendance through the staff portal, no image will be able to be displayed or taken. If the staff member attempts to take a photo, they will receive the following message: