Available formats: PDF/XLS
The Family Full Ledger Report is a great tool for giving families a record of their complete financial transaction history at your facility! It lists all charges, credits, and payments on their account for a set time period, or the entire ledger.
Where can I find it?
You can find the Family Full Ledger report from the full ledger view on any family account.
Go to the Family Page and find the family.
Click the currency symbol icon to view the most recent ledger transactions.
Click on View Full Ledger.
Click Generate Full Ledger Report. This will open the report filters.

DATE METHOD: determines the date range to be used when generating the report.

All Ledger Data - shows all ledger information from the time the family's account was created to present.
From Start Date to End Date - allows you to enter a specific date range for ledger data to be shown.
Month of Start Date - only includes charges/payments within a month of the specified start date.
Year of Start Date - only includes charges/payments within a year of the specified start date.

DISPLAY OPTION

Landscape - if enabled, the report will generate in Landscape (instead of the default Portrait orientation).

Adjust the filters to a time frame or use the default filters to get all ledger history for that family.
Select a report output type to run the report.

The report will generate and be available for download in your Background Tasks. Click the down arrow to download the document if necessary and open the file

Example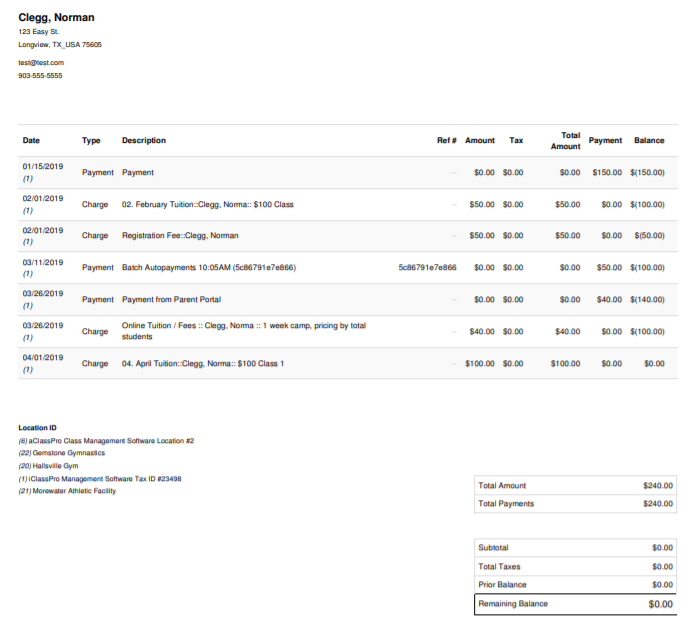 There will be an indicator in the date field to show the location where the payment/charge was recorded. A key for these indicators is located at the bottom of the report, to the left of the totals.