User permissions control which areas of iClassPro a user is allowed to access, as well as which tasks they are allowed to perform.
HOW TO SET USER PERMISSIONS
User permissions can be granted to an entire user group at once, and then a staff member can be assigned to one or more user groups to be granted the permissions they require. User Groups are assigned under the PERMISSIONS tab of the staff user.
Depending on the permissions to be granted, you can either check the box for "Admin Access (Full Permissions)", or select one or more User Groups from the "User Group" list: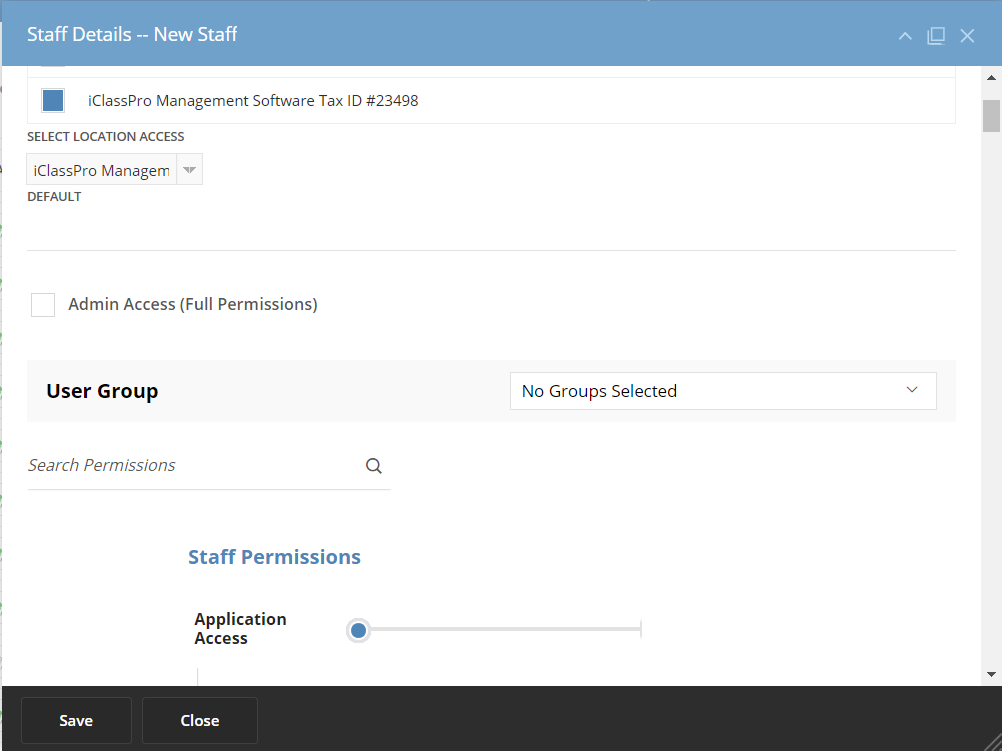 If needed, additional permissions can be granted per user under their staff user profile. Note that additional user permissions ALWAYS add to the permissions granted by the staff member's user group. There is not a way to revoke permissions already granted through their assigned user group, so you will want to assign staff members to the most restrictive group for their needs and then grant advanced permissions as needed.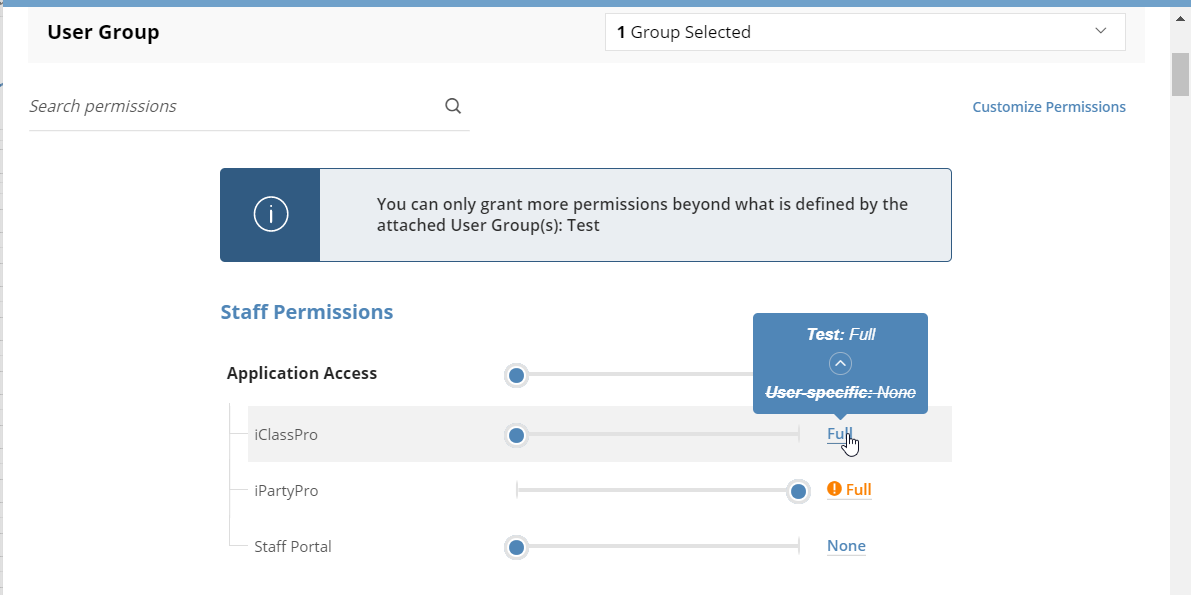 When you grant additional permissions, the permission indicator (shown to the right of the permission toggle) will reflect which permission they have. Hovering over the indicator will explain where the permission came from (either a Group permission or User-specific). User-specific permissions that override Group permissions are displayed in orange.
NOTE: If both a User-specific permission and Group permission grant the same privileges, removing one permission will not automatically remove the other. If you wish to revoke a staff member's access to a specific page or permission to perform specific tasks, you must remove the permission(s) from both areas, or remove the User-specific permission and reassign the staff member to a more restrictive user group.
PERMISSIONS OVERVIEW
You can set up User Groups and set permissions under SETTINGS>SETUP>STAFF SETTINGS>USER GROUPS
HELPFUL HINT: If you need to grant ALL permissions under a particular heading (Application, Pages, Tasks), you can do so by setting that heading to "Full".
There are three main areas for permissions:
Application Access
These permissions determine whether or not the user can log into the specified area of the iClassPro system. These permissions only allow for NO access or FULL access. (Granting FULL access only grants permission to log into these areas; permission to view specific pages or perform specific tasks are granted by the "Page Access" and "Tasks" sections.)

iClassPro: the main area of the iClassPro application, or Office Portal
iPartyPro: located within the Office Portal, this section allows users to create, edit or delete party bookings.
Staff Portal: the dedicated staff portal (currently used for taking attendance, performing skill evaluations, and time clock functions)

Page Access
Once logged into the Office Portal, these permissions determine which pages the staff member can access. The different options refer to the links in the blue toolbar across the top of each page, as well as a few options located under the User Panel (accessed via the user icon in the upper right-hand corner). These permissions only allow for NO access or FULL access. (Granting FULL access only grants permission to access these ages; permissions to perform specific tasks are granted by the "Tasks" section.)

NOTE: because the DASHBOARD is the main landing page of the software, denying access to this page will cause the staff member to receive a notice that they do not have permission to access that page immediately upon login. However, they will still be able to access any other pages for which you have granted them permission.


Dashboard – if a user is granted permission to access the DASHBOARD, you can grant/deny permission to view financial widgets and/or the Program Summary in the "Dashboard" area below.
Families
Students
Classes
Camps
Skills
Parties
Calendar
Staff
Timeclock
Reports – if a user is granted permission to access the REPORTS page, permission to generate specific reports can be granted/denied in the various "Report" areas below.
Transactions
Settings
Audit Log
News & Announcements Page
Userlane Guides
Tasks
These permissions determine which tasks a user can perform within the Office Portal or Staff Portal (depending on the specific permission). In addition to NO access and FULL access, many of these options have an additional VIEW permission which will allow the user to view details regarding these tasks, but will not allow them to create/edit/delete.


Families / Students

Delete Family
Family Email Logs
Delete Student

Allow Policy Approval/Rejection

Ledgers

Charges
Payments

Delete Payment
Allow editing of payment dates

Refunds

Enrollments

Delete Enrollment
Allow tuition override

Attendance – required to take view/record attendance in Staff Portal

Excuse Absences in Staff Portal
See All Classes/Camps in Staff Portal – required for a staff member to take attendance for another instructor's classes. (By default instructors only see their own classes within the Staff Portal.)

Classes
Camps
Staff

Delete Staff
Staff Email Logs

Calendar
Parties
Evaluations (Skill Tracking) – required to view/record skill evaluations in the Staff Portal

Delete Evaluations (Skill Tracking)

News & Announcements

Delete News & Announcements

Time Clock – NOTE: This permission is required if you wish to have staff view/record Time Clock information in the Staff Portal
Create Makeup Tokens

Delete Makeup Tokens
Create Makeup Enrollments Without Tokens

Point of Sale

Point of Sale Price Override
Point of Sale Vendor Logins

Punch Passes

Delete/Suspend Punch Passes

Mass Text

Mass Text Availability Override
Family SMS Logs
Staff SMS Logs
Dashboard
Payments Widget
Charges Widget
Program Summary on Dashboard
Reports
For more information about specific reports and the information they provide, see https://support.iclasspro.com/hc/en-us/articles/218570358-Available-Reports
Family Reports

Family List
Family Phonebook
Family Email List
Families Without Email List
Families With Multiple Students
Family List by Postal/Zip Code
Enrollment by Postal/Zip Code
Notes Report
Policy Report
Family Mailing Labels
Family Policy Agreement

Student Reports

Student List
Student Phonebook
Student Birthday List
Student Anniversary List
Student Insurable Age Groups
Notes Report
Student Mailing Labels
Legacy Student Skill Tree Report
Student Skill Tracking Reports
Student Policy Agreement
Student Gymnastics Australia Club Import Report (if enabled)
Makeups Report

Class Reports

Class List Report
Customer Class List Report
Program Summary
Roll Sheets
Drop List
Special Enrollments
New Enrollments List
Roll Sheet Labels
Class Roll Not Taken Report
Absences Report
Level Summary
Excused Absences Report
Expected Absences Report
Class Retention Summary Report
Class Notes Report

Camp Reports

Camp List Report
Camp Enrollments Report
Camp Enrollment Block Report
Camp Sign In-Sign Out
Excused Absences Report
Expected Absences Report
Camper Information Report

Staff Reports

Staff List Report
Staff Phone Book
Staff Schedule
Notes Report
Staff Mailing Labels

Marketing Reports

How You Heard Summary Report
Promo Code Report

Financial Reports

Aged Accounts Report
Bank Deposit Report
Program Deposit Split Report
Family Full Ledger Report
Category List Report
Statements
Credit Card Splits
Recurring Billing Report
Consolidated Tax Report
Families With Unapplied Credit Balances
Students Enrolled But Not Charged
Families Applied Payment Summary
Family Annual Total Receipts Report
Tax Reconciliation Report
Period Summary Report
Point of Sale: Sales
Point of Sale: Inventory on Hand