The Staff Permissions controls staff member access to certain aspects of iClassPro. From each staff member profile, you can access staff permissions for that user. This includes access to different locations within your account, a default location, assigned User Group and Advanced User Permissions. 
Before a staff member can log into iClassPro, you must first Create their Staff Member Account, assign him/her a unique username, password and permissions.
Understanding User Groups
User Groups allow you to quickly assign a minimum level of job-specific permissions or access to a staff member. For example, you may not want the instructors or coaches to have the same sort of access to your account as the front desk staff- each would have their own set of permissions or User Group that gives them access to the areas of the software needed to complete their daily tasks.
Creating a User Group
Go to Settings > Setup > Staff Settings > User Groups.
Click Create New.
Name the user group to indicate which staff members should be assigned to it.
Choose permissions using the radio buttons in the list for that group of staff members. There are three types of permissions: 
None which gives no permissions related to that item; View which allows staff members to view information but not make changes; and Full which allows staff members to view and change information.
Application Access- Gives staff members the ability to login.
Page Access- Allows staff members to access the navigation links at the top of the screen in iClassPro.
Tasks- Allows staff members to view or edit certain elements of the software, such as families, students, ledgers, classes, camps, etc.
Reports- Give staff members permissions to run only specific reports dealing with their job.
Save the User Group to make it available to use on staff profiles.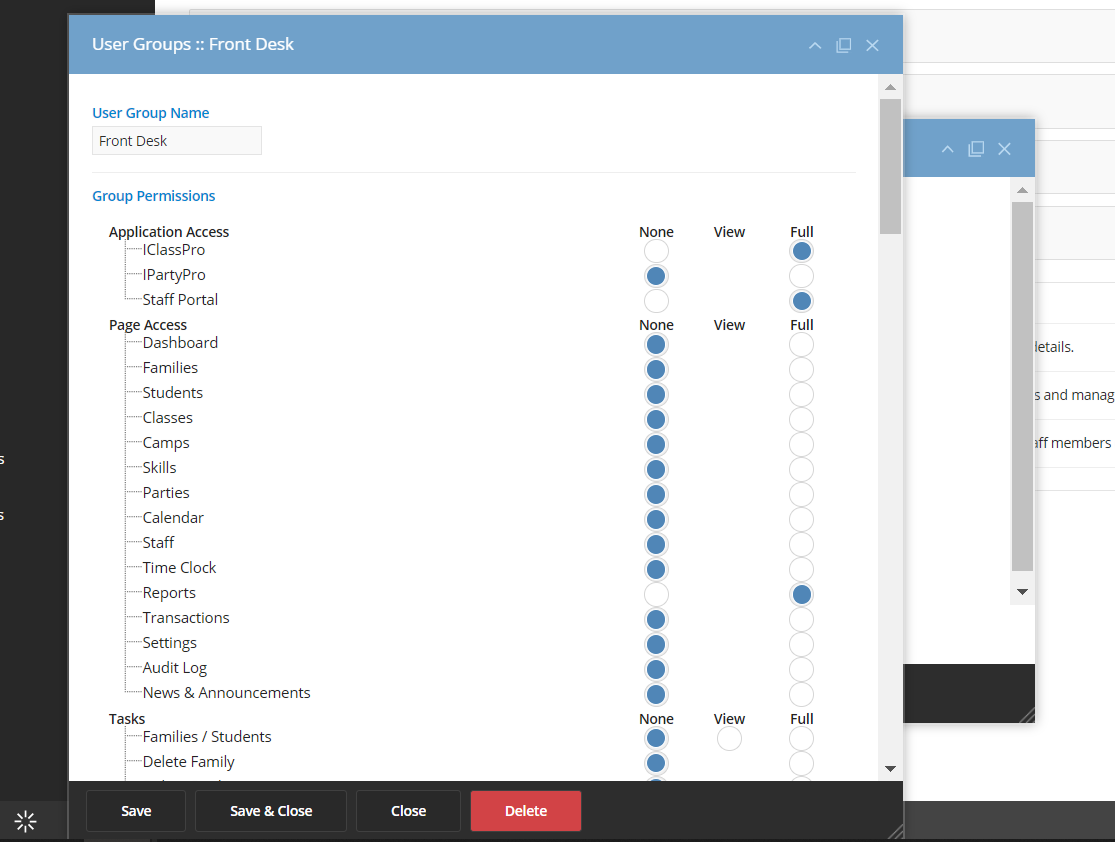 Applying a User Group to a Staff Member
Go to the Staff page at the top of the screen.
Select the Edit (pencil) icon next to the staff member whose permissions are to be edited.
Click the Permissions tab on the staff member profile.
Once you have chosen a User Group and added any necessary Advanced Permissions, click "Save" in the Staff Details screen.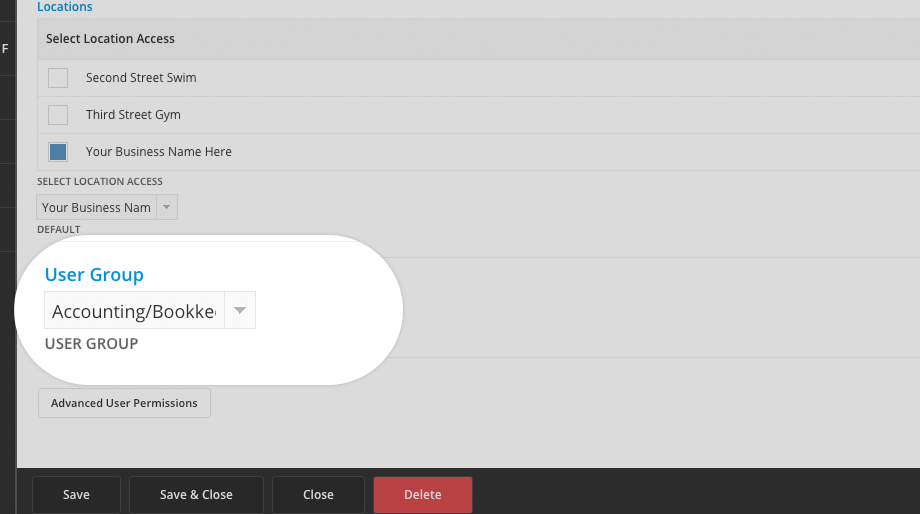 Advanced User Permissions
Sometimes certain staff members may need additional permissions that are not assigned to their User Group. Specialized permissions can be granted via the Advanced User Permissions feature, which is accessible from the staff member's profile in the Permissions tab. 
Note: Advanced User Permissions ALWAYS add to the permissions granted by the staff member's user group. There is not a way to revoke permissions already granted through their assigned user group, so you will want to assign staff members to the most restrictive group for their needs and then grant advanced permissions as needed.