The features described in this article are only available to customers with iClassPro subscription plans that provide access to the Data Warehouse.
IN THIS ARTICLE:
Learn more about iClassPro's Data Warehouse.
What is the Data Warehouse?
iClassPro's Data Warehouse makes the data from your account accessible to you from a central location.  If you have multiple iClassPro accounts, the Data Warehouse combines information from all of your accounts into one.
This data is updated once every 24 hours. Therefore, it is important to remember that any queries run will reference data that was collected during the last update (usually overnight) and is not real-time.
The Data Warehouse can be queried via Power BI (or other Business Intellligence tool) or by using an SQL client with the credentials we will provide to access the Data Warehouse.
How can the Data Warehouse help me obtain data? 
You will receive a ready-to-publish Power BI starter template consisting of over 30 pages of tables and charts focusing on the following topics:
By referring to the queries provided in the starter template, you can learn more about the database schema and how we are calculating specific metrics. From here, you can add, delete, or edit queries as needed to fit the needs of your business.
See our "Getting Started with Your Power BI Starter Template" guide for more information about the reports included in your Power BI Template!
How will I access the Data Warehouse?
Full credentials to access the Data Warehouse will be provided so you can connect separately from the provided template (if you wish to do so). This will allow you to define which metrics can be accessed by different users.
How do I access the secure link?
iClassPro will send an email to the email address on file for the account owner. When this email is received:
Click on the 1Password link contained in the email to access the 1Password secure site.
Enter your email address to receive a verification code to access the shared information.

Enter the verification code to view the item.


What information will the secure note contain?
The shared secure note will contain the login credentials you will need to access the Data Warehouse server.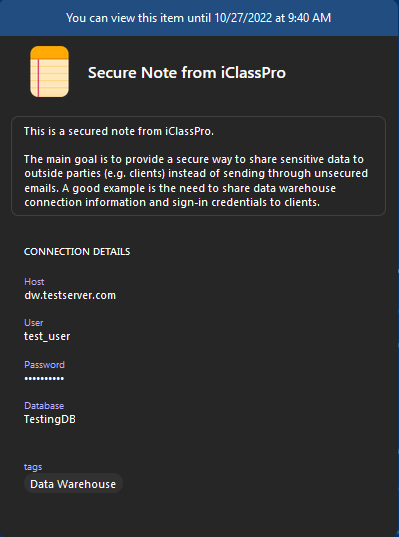 These credentials will include:
Host Name
User Name
Password
Database Name
Hovering over each of these data fields will display options to copy and/or view the details in a larger type. The "Password" field will also include an option to "Reveal", which will show the password in plain text (in case you need to manually re-type it into your SQL client or Business Intelligence tool).
What kind of training will I receive?
iClassPro will provide a Schema document that outlines the Data Warehouse structure for reference when building your queries.
What is Power BI?
Power BI is a collection of software services, apps, and connectors from Microsoft™ that allow you to pull together different data resources and manipulate them to prepare reports, charts, and/or tables to view the information you need more easily. This can make it easier to obtain metrics that may not be easily available using the reports built into iClassPro, such as comparing data from several different locations or accounts in a single view.
Using Power BI's Power Query you can manipulate report data in different ways than is allowed in iClassPro.  For example, if you have several Class Levels that begin with the same prefix (such as Dolphins – Beginner, Dolphins – Intermediate, and Dolphins – Advanced), iClassPro's Level Summary Report will treat each of these as a separate Class Level. However, in Power BI you can group these Class Levels by their shared prefix and therefore calculate enrollment data for all of the "Dolphins" Class Levels together.
How much does it cost to use Power BI?
Power BI is available in three different licensed versions:
Power BI Desktop (free) - Allows users to manipulate data to create reports and charts.
Power BI Pro (monthly fee / free for Microsoft 365 E5 subscribers) - Allows users to publish content to other workspaces, share dashboards, subscribe to dashboards and reports, and share with users outside their organization.
Power BI Premium (monthly fee) - Includes all features of the Power BI Pro subscription; however, a Premium subscription is required if your database is larger than 10GB in size.
NOTE: Users who will only be reviewing shared information will do so via a web browser using a link provided by the content creator.
While Power BI Desktop is Windows-only, the browser version is accessible from either Windows or Mac.
Where can I learn more about Power BI?
iClassPro only provides the starter template and does not provide Power BI training/query development. However, you can learn more about the Power BI Service and Power BI Desktop by viewing online tutorials provided by Microsoft™:
Tutorial: Get started creating in the Power BI service
Tutorial: Get started with Power BI Desktop