IN THIS ARTICLE:
Learn about configuring iClassPro App-related settings, as well as how to configure and send out an Email Blast announcing to your customers that the iClassPro App is available.
Showing Mobile App Links on the Customer Portal
You can enable/disable the setting under SETTINGS>CUSTOMER PORTAL>OTHER SETTINGS>MARKETING AND BRANDING>"Show Mobile App Download Links" to display links to the Google Play store and iOS App Store for parents to download the mobile app. If enabled, the links will appear just above your avatar on the left-hand side (below the navigation menu).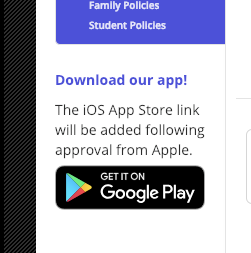 Showing Attendance in the Customer Portal
With the Customer Portal App, you can give permission to allow your parents to view their student's attendance history, notify your facility of a future absence, and use Makeup Tokens to schedule makeup enrollments through the app.
To enable these functions, you need to enable the setting under SETTINGS>CUSTOMER PORTAL>OTHER SETTINGS>GENERAL SETTINGS>"SHOW ATTENDANCE IN CUSTOMER PORTAL":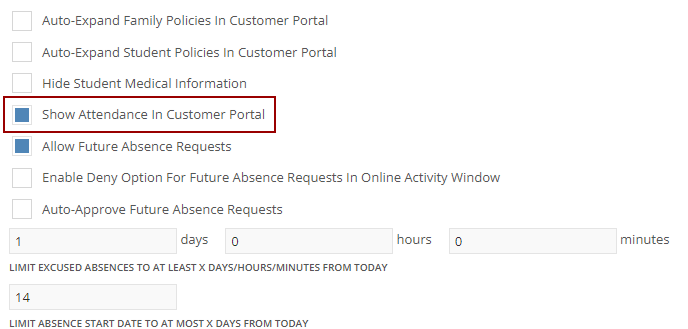 Allowing Visitors to Apply Account Credit
Enabling the "Allow Visitors the Ability to Use Available Account Credits" setting under SETTINGS>CUSTOMER PORTAL>OTHER SETTINGS>FINANCIAL will allow parents to apply available credit from their ledgers to existing charges with outstanding balances prior to making a payment. This is available by navigating to the Account area of the mobile app and scrolling down past "Add Student".
Sending the App Announcement Email
We have created a template you can use to send an Email Blast to your families to let them know about the app, along with instructions on how to download it! To use the template
Go to the FAMILIES page.
Select the families you wish to receive the email.
Click the Email Blast icon at the bottom of the screen.
Under the SUBJECT field, you will see an "Email Template" drop-down menu.



Choose "Mobile App Announcement" and the Body field will automatically populate with the email text. You can customize this text as needed prior to sending the email.

Sending Push Notifications