IN THIS ARTICLE:
Learn the basics of creating and editing Family and Student policies, and how families are alerted when changes are made to existing policies.
You can view more information about policies and how they are handled in iClassPro below:
About Policies
By default, the only policies that are activated in iClassPro accounts are the example Family Policies:
Billing Authorization

Rules, Terms and Conditions

Waiver
There are no Student Policies activated in iClassPro accounts by default and businesses are not required to set up Student Policies.
Family policies are required and must be accepted to perform any tasks within the Customer Portal. However, if a business chooses not to use utilize any of the student policy features (by making them all inactive), customers and staff will not be required to interact with them.
Accessing Policies
To access policies after logging into iClassPro, open the User Panel at the top right of the software and click on Settings. From the settings page, click Policies on the left menu.
PRO TIP! Only staff members which have access to the Settings area of iClassPro will be able to view, edit and create Policies directly.
From this area, you will see a list of policies created in your account. There are three tabs; one for FAMILY policies, one for STUDENT policies, and one for SETTINGS. The system will default to the FAMILY policy screen.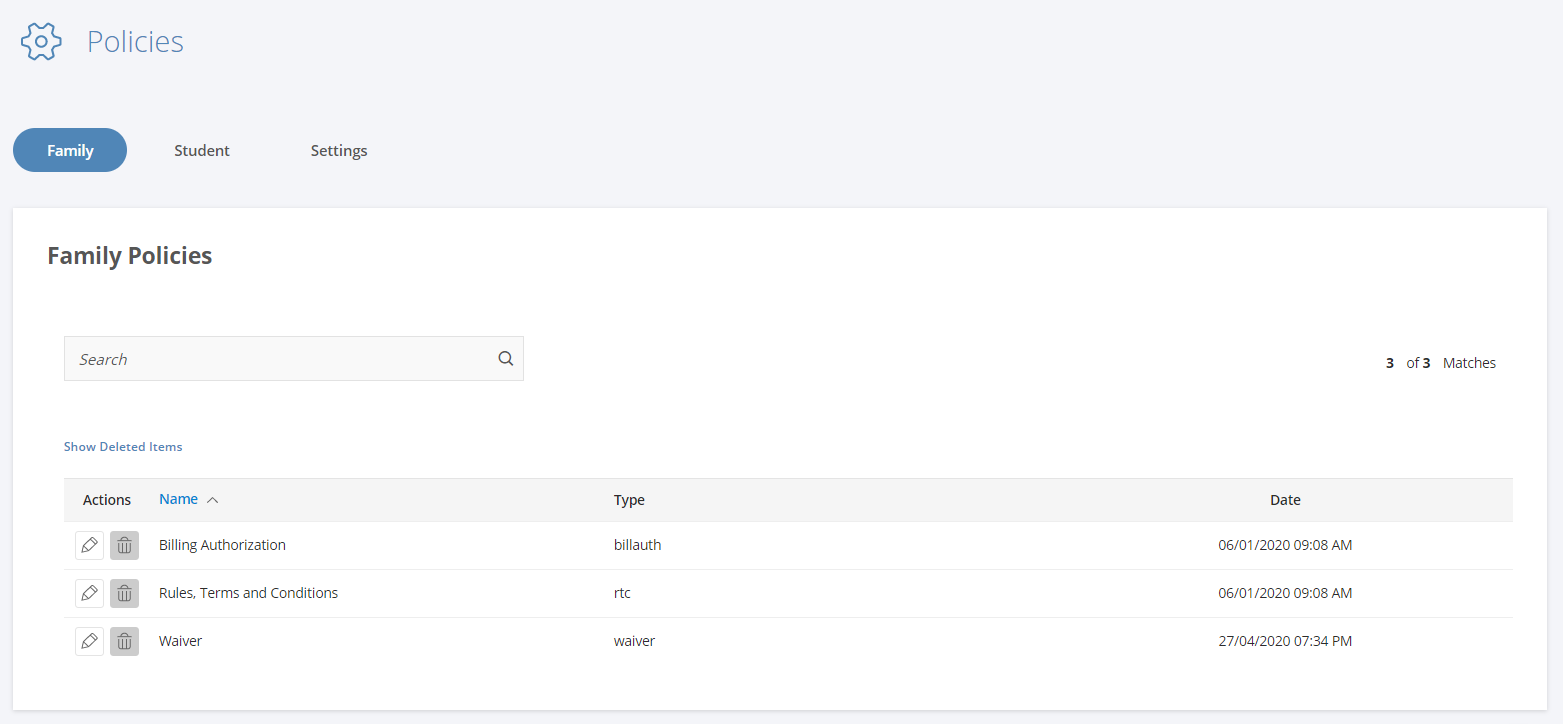 Family – lists family policies and allows you to edit them.
Student – lists student policies and allows you to create/edit them.
Settings – lists settings specific to handling of policies on the Customer Portal.

Prevent rejection of required student policies on Customer Portal – when enabled, the option to reject a policy will be removed if the policy is required.
Prevent rejection of accepted student policies on Customer Portal – when enabled, the option to reject a policy will be removed if a customer has already accepted it (regardless of whether the policy is required).
The search tool can be used to search through policy names if there is a long list.
Default Student Photo Waiver Policy
Each iClassPro account will start off with a Student Photo Waiver policy. This policy is specially designed to be tied directly into the ability for staff members to take, upload and view student photos throughout iClassPro and cannot be removed from the software.
For those businesses which may need consent to utilize student photos in any capacity due to legal reasons (even internally), this new policy should be implemented to allow this functionality.
Read our article about the special photo waiver for more information about how it works.
Deleted Policies
If a policy is deleted using the trash can icon, you can click "Show Deleted Items" to view deleted policies. If a policy is deleted by accident, clicking "Restore" next to that policy in this section will return it to the current list of policies. Clicking "Show Active Items" from the deleted items at the top of this view will return you to the current list of policies in the account.

Creating a New Student Policy
From the appropriate policies page, click "Add New Student Policy" to begin drafting a new policy agreement.
Every policy must have a Name (title for the agreement) and Content (where the agreement text will be included).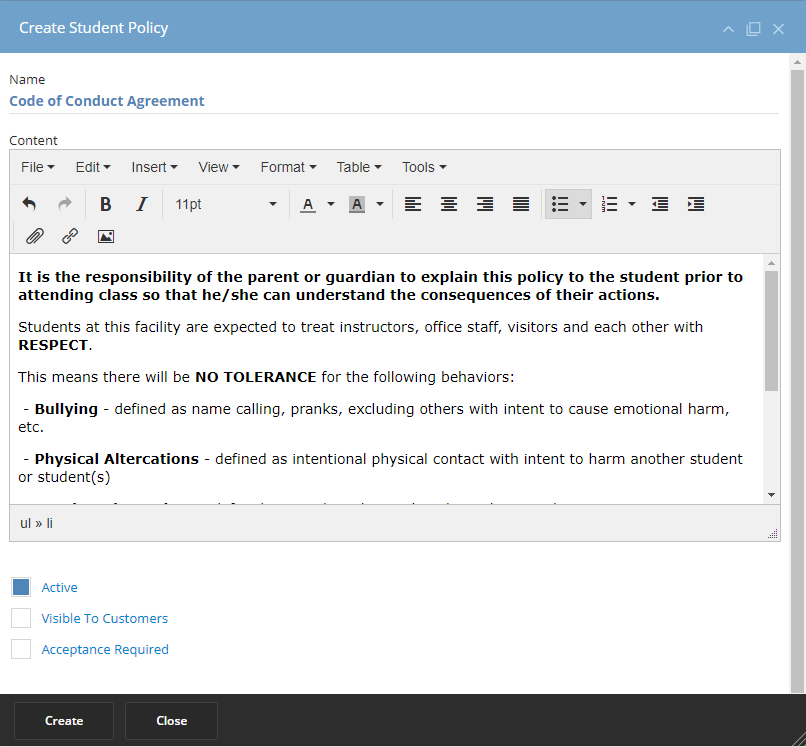 Each policy will also have checkbox settings to control how it is enforced:
Active

– If this box is checked the other boxes will appear and the policy will be incorporated into the workflow for the office portal. If unchecked, the policy will be created, but will not be implemented for use on student records. Only active policies will be enforced throughout the iClassPro application.

Visible to Customers - If this box is checked, the policy will be implemented during the Customer Portal registration process. If unchecked, the policy will remain only for staff use on family or student records.

PRO TIP! When creating policies that will be visible to customers, keep the user experience in mind. Families must either accept or reject student policies individually for each student. This means that if you have created 3 student policies, a family that has 3 students will be required to either accept or reject a total of 9 student policies. Families will only be required to accept family policies once, so if some of your policies encompass all students, you may consider making those family policies instead.
Acceptance Required

– If this box is checked, families will be required to accept the policy to create enrollments through the Customer Portal. Staff members will also receive a warning that the student is missing required policy acceptances when enrolling the student in the Office Portal or taking attendance.

Any required policies should also have the "Show On Web" option enabled. (If you have required a policy and it is not set to "Show on Web," parents will not be able to see the policy in order to accept it.)
After entering the desired information, click Create to save the policy. It will now be displayed in the corresponding list on the Policies page with indicators showing whether it is active and/or required.
An audit log entry is recorded to track the details of when the new policy was added.

Editing a Policy
It is important to note that making edits to a policy already in use will expire the old version of the policy and require all customers to re-submit their agreement status to the new version. If the policy is required, this will also trigger an icon for missing required policy acceptances in the attendance module and roll sheets.
If the policy is visible to customers, they will be prompted to accept or reject the policy the next time they access the Customer Portal. When a new version is released, copies of past versions and agreement statuses will be kept on file under each family or student record.
To edit a policy, click the pencil icon next to the name of the policy you would like to edit.

With the policy open, make the necessary edits and then click "Save" to keep the window open or "Save & Close" to exit.
If they system detects no changes when the staff member saves, an error message will appear and the save will not occur. This is to protect from "accidental" policy updates which could inconvenience customers.

With a successful edit, an audit log entry is made to track changes to the policies.

If a policy is successfully edited, you will be given the option to send an email to notify families that a new policy has been created and provide a link to the Customer Portal so they can log in and review/accept it.

Clicking YES at this prompt will launch an Email Blast window that automatically selects all active families to receive the email and loads the "Policy Update" email template. (This email template can be customized under SETTINGS>SETUP>GENERAL SETTINGS>EMAIL TEMPLATES>ICLASSPRO>"Policy Update".)