IN THIS ARTICLE:
Learn how to view transfer and transfer details in the Merchant Portal.
NOTE: This document only applies to customers in the United States who are using iClassPro Payment Services.
What is a Transaction?
A "transaction" is a single credit card, eCheck, refund, return or chargeback. Transactions are grouped together in batches when iClassPro Payment Services transfers funds to or from your account following a successful batch of transactions or chargeback/eCheck return. However, it is possible to view details related to an individual transaction in the Merchant Portal.
Accessing Transfers
To view individual transactions, click "Transactions" on the left-hand side of the screen after logging into the Merchant Portal and/or selecting an account.


Filter Options
There are a number of filter options available to locate the transaction(s) you are looking for: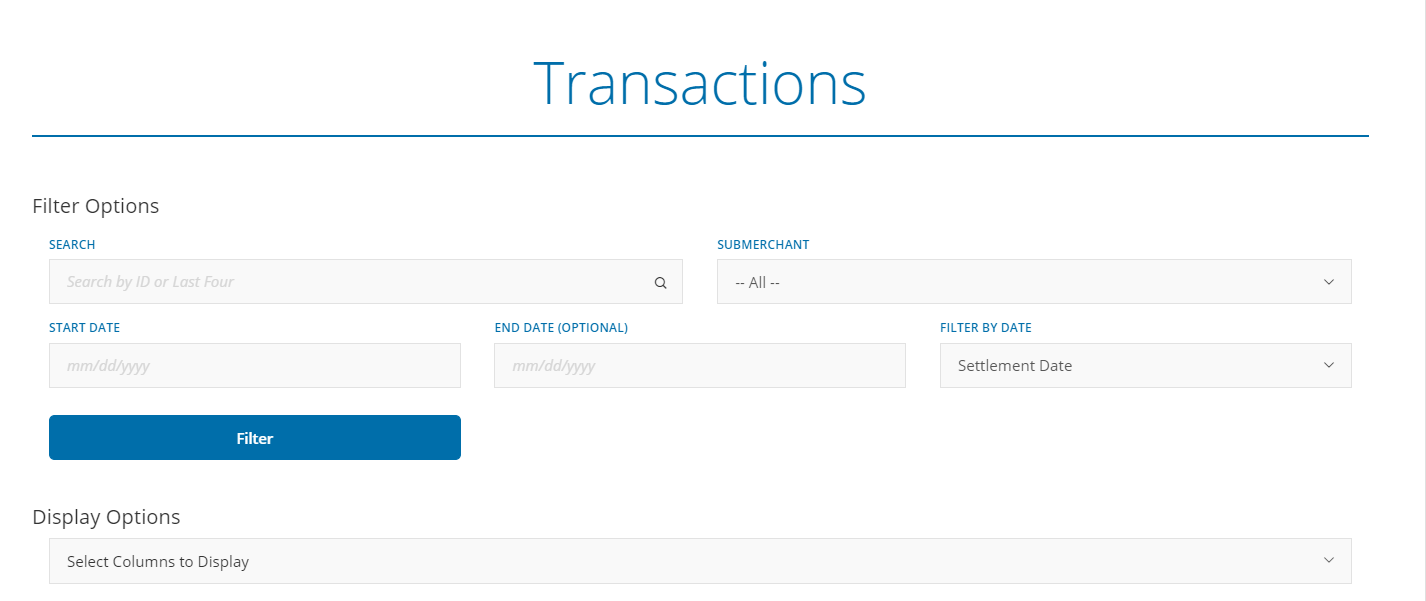 Search – Allows you to search by either the merchant portal transaction Id or the last four digits of the card used.
Submerchant – If the account has multiple submerchants, choose a specific submerchant to limit your results. The filter defaults to "ALL."
Start Date/End Date – Limits results to transactions on or after the start date and on or before the End Date (if specified). This filter works in conjunction with the "Filter By Date" filter. (If no dates are selected, only results for the current calendar months are shown.)
Filter By Date – Determines whether the Start Date/End Date filters look at the Settlement Date or the Activity Date.
After selecting your filter(s), click the FILTER button to apply them.
Display Options
The "Display Options" allow you to choose specific data to be included in your results. Those shown with a blue selection box below are shown by default: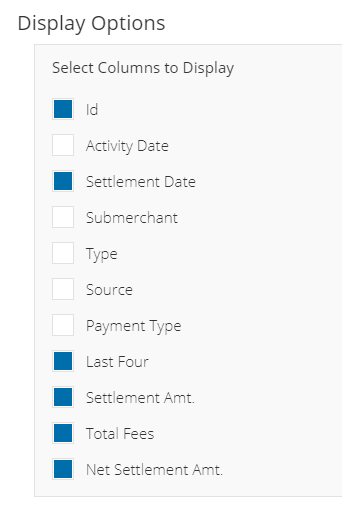 Id - The merchant services transaction Id. NOTE: This is NOT the same as the Transaction ID recorded in the payment gateway (which is also the transaction ID recorded in iClassPro).
Activity Date – This is usually the date the transaction settles in the payment gateway, taking into account the settlement schedule and any bank holidays/weekends. (See our "Settlement Schedule" document for more information: https://support.iclasspro.com/hc/en-us/articles/115004588108-Settlement-Schedule.)
Settlement Date – This is the date the transaction settles in the Merchant Portal and the funds are approved to be transferred to your bank account.
Submerchant – The submerchant associated with the transaction.
Type – Deposit or Refund
Source – Card Present (CP), Card Not Present (CNP), or eCheck
Payment Type – Card issuer (American Express/VISA/MasterCard/Discover) or bank
Last Four – The last four digits of the card/bank account used in the transaction.
Settlement Amt. – The gross (total) amount of the transaction.
Total Fees – The total amount of fees assessed for the transaction.
Net Settlement Amt. – The amount actually settled for the transaction. (Settlement Amt. – Total Fees)
Downloading search results
If needed, filtered results can be downloaded in CSV format for external reporting purposes. Just click the "Download" icon at the bottom of the results.