IN THIS ARTICLE:
Learn how to configure Time Clock settings on staff profiles so staff members will be able to clock in/out.
Staff Roles
With Time Clock, staff members' hours can be tracked by Role. By default, the staff member's hours will be tracked under the Role set up on the Staff Details screen.
If you also track hours by individual roles in your payroll system, make sure that the Roles entered in iClassPro under Settings > Setup > Staff Settings > Roles match entries for your payroll system.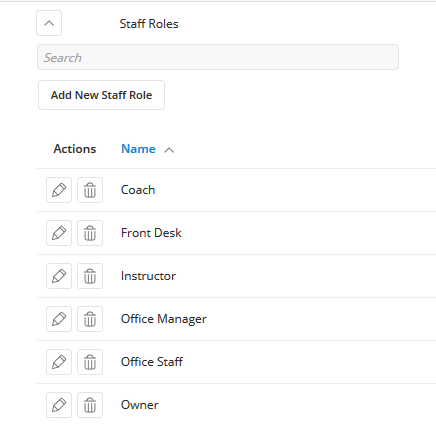 iClassPro also includes special built-in roles for time clock administrators to use when adjusting or manually entering time entries in the Office Portal. These roles cannot be deleted, and cannot be selected by staff members when recording time.
These roles are: Vacation, Sick, Holiday, Jury Duty, and Bereavement. (Note that overtime is not calculated against hours when any of these roles are selected.)
Reviewing Permissions
If the employee will only need information to use Time Clock, but not access to the software or pin pad, you can skip the permissions check.
For those employees that will need to sign in to iClassPro for their job duties, you can click here to review our time clock permissions article for recommendations.
Staff Time Clock Settings
After entering employee details and reviewing permissions, you will need to click on the Time Clock tab under the staff member's record.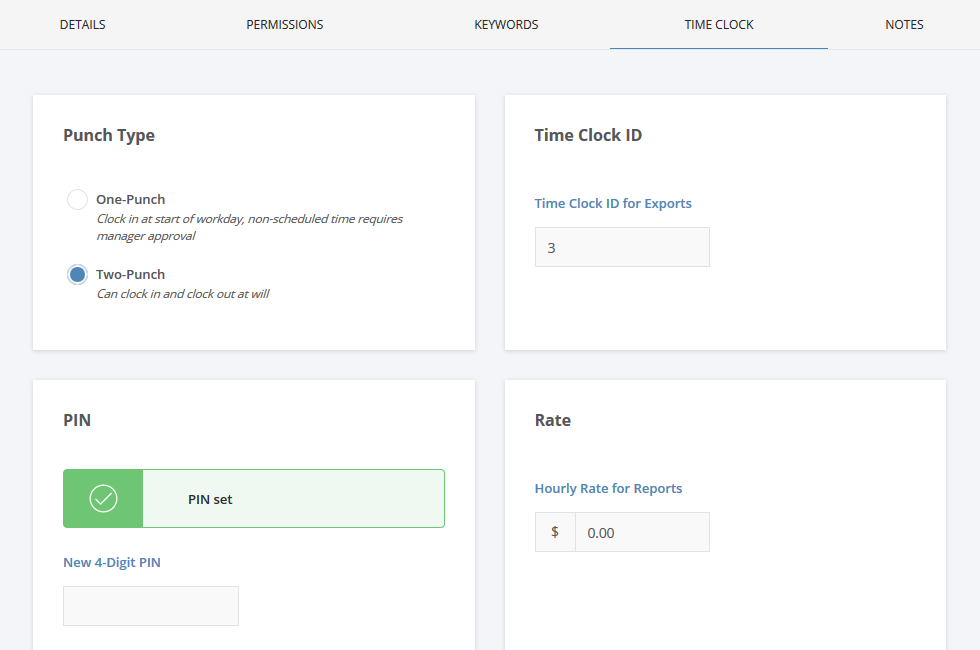 Punch Types
There are two methods of clocking in and out using iClassPro, which are referred to as Punch Types.

About Two-Punch
The Two-Punch system operates like a standard time clock by requiring the staff member to manually clock in before work and clock out at the end of the day (as well as manually clock out and back in for any unpaid breaks or to change roles). All staff members will use this system by default.
If a staff member works at multiple locations, they must be set up as a two-punch employee and clock in/out at each location to keep their time entries properly linked to the location at which they worked.
NOTE: If "Show schedule on clock out for two-punch employees" is enabled under SETTINGS>SETUP>GENERAL SETTINGS>TIME CLOCK, the system will display separate punch entries for each class to which they were assigned as instructor. If the staff member had no assigned classes on the day for which they are clocking in/out, or if this option is disabled, a single entry will be displayed that encompasses all hours they were clocked in.
For example, if a two-punch employee is assigned as an instructor for classes at 3:30, 4:30 and 6:00, the system would record a single clock-in entry at 3:30 and a clock-out entry at 6:00 instead of recording separate entries for each scheduled time. (Assuming the employee clocks in/out at the beginning and end of their shift.)
About One-Punch
The other method is referred to as the One-Punch system. This method will pull up the scheduled events for the day for which the staff member has been assigned as an instructor. It will then ask them to confirm their schedule.
If the employee punches in BEFORE the scheduled start time for their first event, their clock-in time will be adjusted to match the event start time. If they clock in AFTER the scheduled start time for their first event, the system will record the actual time as their clock-in time. It will then clock them out again after the duration of the event.
For any significant time spent on the clock before, after, or in between scheduled classes and camps, the staff member must submit an adjustment entry for review.

For businesses using the one-punch system, there is also a setting under Settings>Setup>General Settings>Time Clock called the Gap Auto-Approve Threshold to allow your business to set up a threshold (number of minutes) where gaps between scheduled classes/camps are recorded as paid automatically, rather than the employee having to submit a request. For example, if your business schedules classes 15 minutes apart and the gap is set to 15 minutes - any employee with back to back classes would be paid for the time in between by default.

Disclaimer:
Always consult the Wage and Hour Division of the United States Department of Labor as well as your state's Wage and Hour Division for specific laws pertaining to wage and hour compliance, overtime laws, and recordkeeping requirements. iClassPro, Inc. is not responsible for non-compliance of state and/or federal laws.
Time Clock ID
This field provides a unique Time Clock ID for each staff member which is used in some time clock pay period exports that may require an ID field in place of a staff member's name. The Time Clock ID field will automatically populate with a unique ID that is used to track the staff member in iClassPro. However, this information can be overwritten with a different staff ID from your payroll software if needed.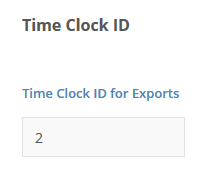 PIN
To be able to clock in or clock out through the Punch Pad or Kiosk Mode, each employee must have a unique PIN set up on their staff record. To create a pin, enter the 4 digit number and click Save at the bottom of the window. This will save the pin and generate the message: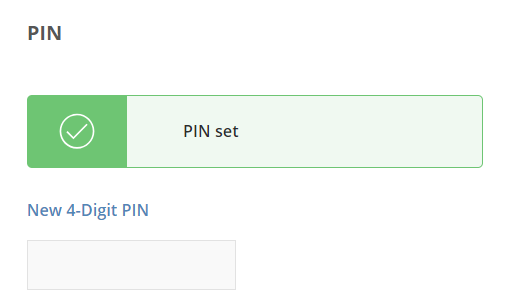 For security reasons, the PIN which is saved for the staff member will not show.
Rate
The rate section is optional and allows staff to enter a single hourly rate for the employee to appear in reports. This is intended to allow iClassPro to be able to look at items such as class profitability in the future and will not be used in any way when exporting hours to use with your external payroll services.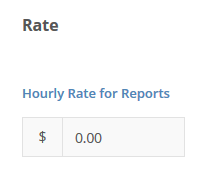 Time Entries by Pay Period
At the bottom of the Time Clock tab for a staff member, a list of entries by pay period are available for review.