How it Works
Before a customer can begin receiving emails sent by staff members through the email blast tool, they must opt-in to receiving email blasts.
From the Parent Portal (Customer Opt-In)
When first creating their account for the first time or by clicking on the Families link if the account has already been created, the family will see their list of emails on file along with a Yes/No question for "Receive All Emails?".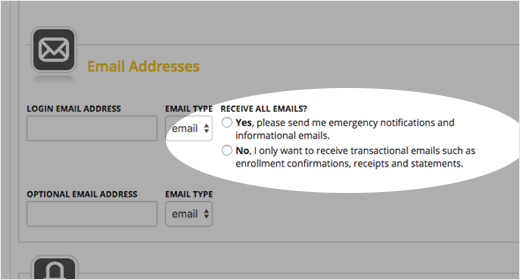 Answering "Yes, please send me emergency notifications and informational emails" will opt the customer in to receiving email blasts sent out from iClassPro.
Answering "No, I only want to receive transactional emails such as enrollment confirmations, receipts and statements" will leave the customer opted out of general communications sent by staff members through the email blast tool.

From the Office Portal (Staff Opt-In)
If a customer gives their consent to the business in person, a staff member can also opt-in or subscribe a family's email address by editing the family and un-checking the "Unsubscribe from E-Mail Blast" option.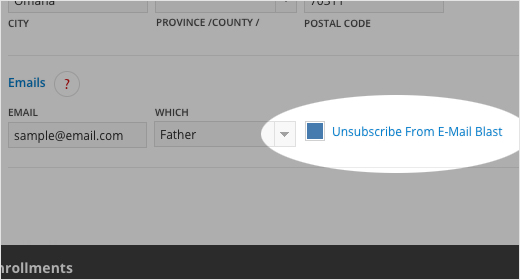 Tracking Changes in the Audit Log
Each opt-in and opt-out action is now tracked through iClassPro's audit log so that there is a record of who made the change and on which date. The entries will look similar to the ones below: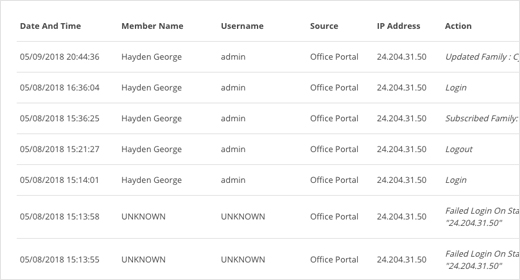 Why Explicit Opt-In is Important
It is important to get customer consent prior to sending out general and potentially promotional messages for several reasons, such as:
Customers are more likely to look for and open emails from your business, if they know they're coming first.
Customers are less likely to be suspicious and mark your communications as SPAM with their email provider (which will make further messages to that address non-deliverable).
According to privacy laws, it is illegal in some countries to send an email to a citizen of their country without their express consent (an action taken by that customer to knowingly begin receiving email communications).
Note: To also help businesses abide by email and marketing laws, any email blasts sent out from iClassPro contains a link for customers to be able to Unsubscribe. This will take the customer to a page in the parent portal where they must confirm their decision (click here for more information).
Helpful Reports
Below are a few helpful topics for businesses that may want to review customers and their opt-in/opt-out status using reports in iClassPro.
Finding New Family Accounts
To find any new families created either online or by staff members within a period of time, you can use the Family Phonebook report (Reports>Families>FAM-2 Family Phonebook) with the filters for "Families Created From" and "Families Created Until" dates. This will search within that timeframe for any new families created within iClassPro and return a report with the Guardian Names, Physical Address, Phone Number and Primary Email address.
Finding Families which have Unsubscribed
To find any families which have at least one email address that is unsubscribed from email blasts, the best report to use is the Family Email List report (Reports>Families>FAM-3) with the filter for "Email Opt-In Status" set to "Only Emails that have Opted OUT". This will return a list of the Primary Guardian on the account and the email(s) under the family which have been opted out.