IN THIS ARTICLE:
Learn the basics of configuring your iPartyPro settings.
Where do I configure iPartyPro settings?
To setup parties in your iClassPro account, you will need to go through all of the party settings. Go to Settings > Parties to begin!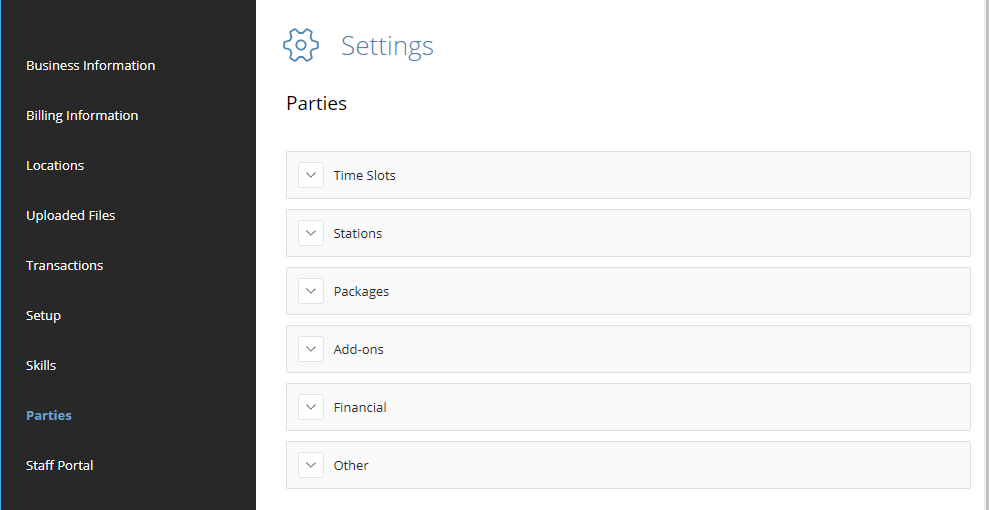 Basic iPartyPro setup details
Time Slots
The first critical step is to establish Time Slots, which dictate party schedules for different stations at your business. Each time slot can be set to occur on one or multiple weekdays to allow for maximum variation in your party schedule. Read More
Stations
Create available party spaces, called Stations, to attach time slots for possible bookings. If you only have one party space, create a generic party station. Be sure to use names that customers will understand, as these are visible on the Customer Portal! You can upload a picture for the space, set a capacity, and provide both a short and long description. Read More
Packages
Packages allow you to communicate each unique party experience your business offers along with a base price. You will attach one or more packages to each station you created. Each package has a description and a fee associated with it. Read More
Add-ons
If your business allows customers to customize their parties with optional items on top of the pre-packaged party experience, then add-ons are for you! Add-ons are extra items at a price per quantity that are attached to packages. Read More
Financial Settings
Because party bookings are not enrollments, the way you track parties financially is essential for evaluating party sales at the end of the year. All parties and party accessories sold through the parties module will use the same program and charge category. Read More
Other Settings
Create a generic party booking waiver for the customer booking the party to agree to and customize the confirmation email that is sent to customers who book parties with your business! You can also customize the required lead time for online party bookings. Read More
Allowing Staff to access iPartyPro
Enable Parties in the Customer Portal
To activate the parties module on the Customer Portal, you must choose to "Show Parties and Allow Parents to Register for Them" under SETTINGS>CUSTOMER PORTAL>OTHER SETTINGS>GENERAL SETTINGS. Read More

Next Step: Create Party Time Slots!