If your businesses hosts several classes at once, room labels can be created and assigned to classes so that office and front desk staff members can easily direct customers to the right place.
Rooms are only visible to staff members and within the Check-In Kiosk.  They are not currently displayed on the Parent Portal.
Creating Rooms
To start, navigate to Settings > Setup > General Settings > Rooms.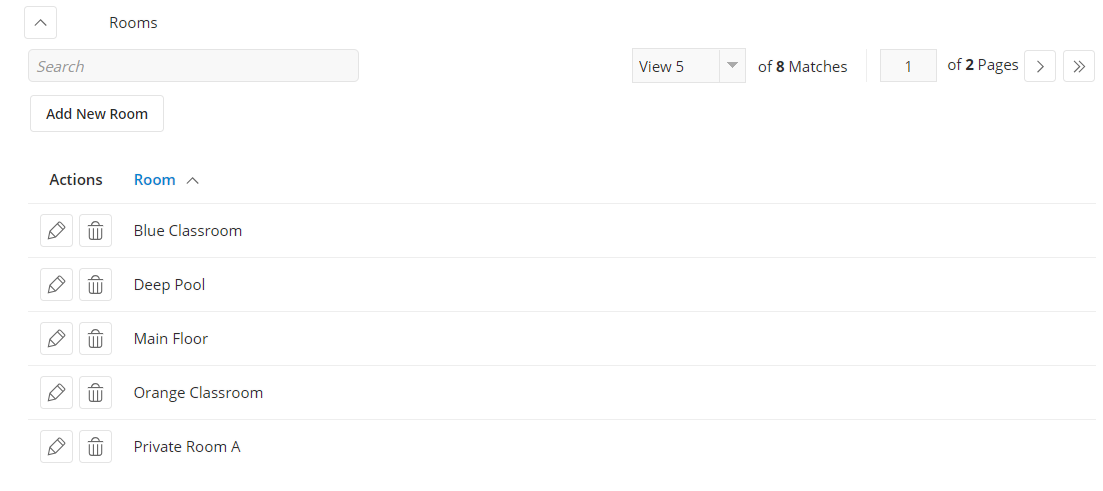 Click "Add New Room." This will open a new window.
Name the room. Room labels can be a room number, floor rotation number, swim lanes, etc., and will display on some reports and the Classes page.
Click "Create" to create and save the room.
Assigning a Room
To assign a room, navigate to the Classes Page. Then click on the pencil icon next to the class and in the details, select a room from the drop down.
After choosing the room where the class meets, save your changes.

Mass Assigning Rooms to Classes
To assign a room en masse, go to the Classes Page.
Filter the class list using any applicable filters and search tools on the left side of the page to find classes.
If necessary, adjust your page view to include more results (top & bottom right of list).
Select any classes you would like to change to the new room.
Click the Quick Edit tool (the icon that looks like a pencil with three lines next to it).

Select the Room you wish to assign to the selected classes.

PRO TIP! If you would like to make additional changes to these classes at the same time, you may. If you are not changing any information other than the room, leave the other items blank or set to the default "-DO NOT CHANGE-" option. 


Click Save to make the desired changes.
A background task will start to update the classes you have selected. When that task completes, all classes should reflect the new room. (In some circumstances, you may need to refresh the classes page to see the updates.)