Why don't future students and families get emails from the CLASSES page?
Many times, when emailing students from the CLASSES page the message being sent will be intended only for the families and students currently enrolled. For example, if your facility has an unexpected power outage and you need to inform students there will not be class today. It doesn't make much sense to notify students who would not have been showing up for class today anyway. So this method only emails those families that have students who are active today in that class.
But don't worry! You can still contact that class that starts next week with additional information or reminders about buying a practice uniform or that they need to show up early to get checked in. This is simply done from either the FAMILIES or STUDENTS page instead. It also allows you to email past as well as future enrollments.
How to Email Future Enrollments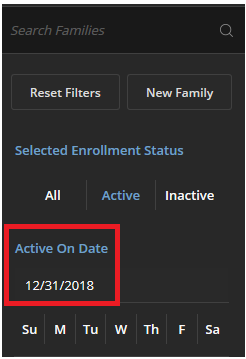 The key to emailing future enrollments is the Active Date filter on the left-hand side of the FAMILIES and STUDENTS pages. 
Simply change the Active Date to a date after the enrollments begin and use the program, class, and other filters on the page to get the right group of students or families. Then use the view options, checkboxes, and the email blast wizard to send out the email.
Note: Another great way to see who was successfully emailed is to check your background tasks for the Email Blast and click the drop down arrow for more information.