Note: This feature is available at an additional cost of $0.03 (one credit) per message per recipient in the US and Canada. The service is also available in Australia for SMS only (no voice broadcast features), but at a slightly higher cost.  Credits must be purchased prior to the use of this feature. Replies are not available.
Only admin users with access to settings have the permission to purchase credits.
To purchase credits, go to Settings > Setup > General Settings > SMS and Voice.
Complete Setup
For customers in Australia, please contact iClassPro (Support@iClassPro.com) to start the setup process for SMS messaging (texting). Different setup and pricing applies for businesses located in Australia.

If you are a customer in the United States or Canada and have not used this feature before, upon opening the SMS and Voice settings, you will need to enter a local area code for the service to find an available phone number for the messaging service to assign to your account. This will be a no-reply number, so only outgoing messages will be sent. No replies are recorded.
Review Phone Number and Available Credits
If you have already completed setup, the window which appears under Settings > Setup > General Settings > SMS and Voice will show your assigned phone number. This number will be used specifically for your business to send outgoing voice broadcasts (to any phone) or text messages (to text-enabled phones) within your customer and staff lists.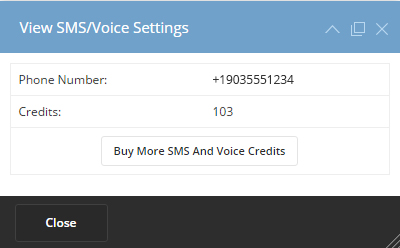 Purchasing SMS/Voice Credits
Click Buy More SMS and Voice Credits to begin your purchase.

The standard rate of three cents per credit applies to all purchases in the US and Canada and there is a minimum order of 100 credits. If your business has a location within the state of Texas, sales tax may apply to your purchase.
Enter the number of credits you would like to purchase. The amount will automatically be calculated at the end of the formula.
(The following example is taxed at the rate of 8.25%)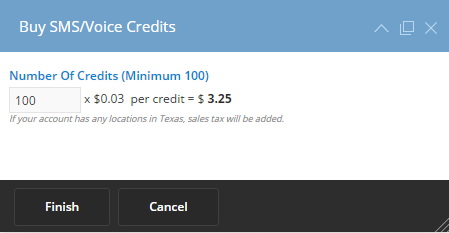 After reviewing your purchase total, click Finish to bill the payment account (credit card or bank account) on file for your subscription with iClassPro. This will be billed immediately to the account.
Your purchased credits will now be available for use.