These discounts are established under SETTINGS>SETUP>CLASS SETTINGS>DISCOUT SCHEDULES under the "Special Discounts" tab on each discount schedule as either a dollar or percentage discount.

Special Discounts
Special discounts are used to give certain families (all students under that family) a special discount off of all their tuition prices automatically. The fields are labeled for use for Employees, Members, and Service. The amounts can be entered as dollar amounts or a percentage.
To use the Special Discounts, go to any family that they should apply to from the Family page. Edit the family by clicking on the pencil/edit icon, and then scroll to the bottom of the Family Details section. Click on the blue link that says "View More", scroll to the "Special Discounts" area, then change the Employee, Member and/or Service Discount drop-down menu from "No" to "Yes" (as needed):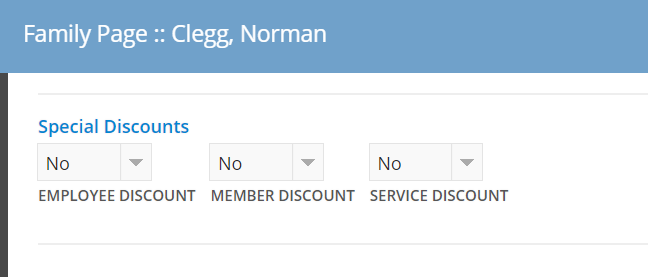 Early Bird Discounts
Early bird discounts are discounts for customers which pay ahead of schedule. When creating a charge from the family ledger or billing globally for class tuition, simply type in the Early Bird Cut Off Date to establish the date when the created charges go back to normal pricing. The amounts can be entered as dollar amounts or as percentages. These discounts will not be taken into effect for online enrollments which automatically charge tuition and require payment because there is not a way to set an Early Bird Cut Off Date on those charges.
To get a better look at how the special discounts work on the Discount Schedule, click here!