This document only applies to customers in the United States who are using iClassPro Payment Services.
IN THIS ARTICLE:
Learn how to update the banking information connected to your iClassPro Payment Services account.
Where do I update my checking account information?
You can now submit a request to update banking from within the Merchant Portal. This action must be done by an account manager.
How do I update my checking account information?
Log in with the email address and password you used when you filled out your Payment Services application. (If you forgot your password, you can use the "Forgot Password?" link to have a password reset email sent to you.)


Select "Settings" from the navigation menu on the left-hand side of the screen.

Click "Banking Update Requests."
Choose "Create Request."

Select the submerchant account for which you wish to update banking information.

NOTE: If you want to update banking for all submerchants choose "Select All"

Click "Next."
How do I link my checking account?
From here, you can either link your bank account via Plaid or manually enter the request. Manually entering the request does require a voided check or Letter of Direct Deposit from the bank.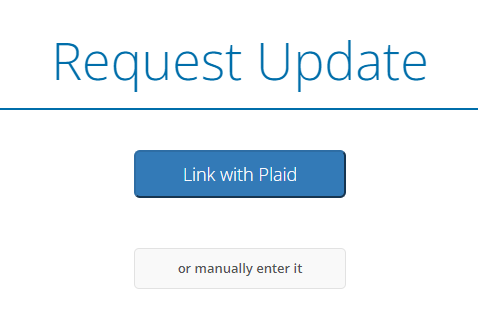 When linking with Plaid, you will be walked through the process as you are redirected to Plaid to connect your bank account.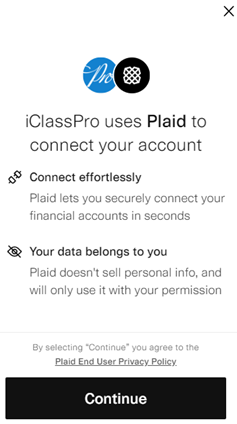 When manually entering in your checking account information, you will need to fill out the "Request Update" form along with uploading a copy of your voided check or Letter of Direct Deposit.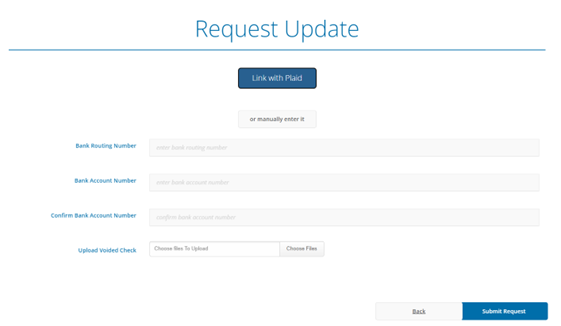 A confirmation screen will appear after clicking "Submit Request." You must select confirm for the request to go through.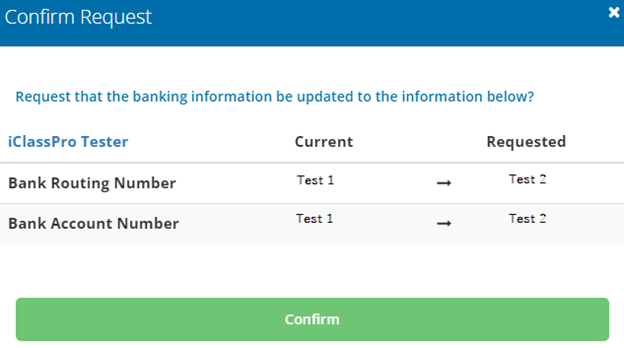 After you have linked your account with Plaid or manually entered your information, the following notification message will be displayed at the top of their screen: "Success! Your request has been submitted and is under review. A team member will be reaching out shortly. To expedite the process, please call 1 (877) 554-6776."
An iClassPro Payments team representative will reach out to confirm the information before approving the request. At the time of approving or denying the request, an email will be sent to the email address used to submit the request.
How can I check the status of my update request?
The request status can be viewed by going back to "Banking Update Requests". If the request is "Pending," you can cancel the request by selecting the red "Cancel Request" button on the far right.